Stormzy & Ed Sheeran Read Hilarious Comments On Each Other's YouTube Videos – WATCH
15 March 2017, 11:02 | Updated: 11 May 2017, 15:32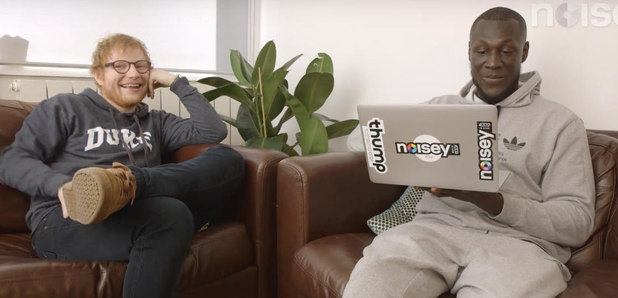 This is amazing.
Stormzy and Ed Sheeran sat down and read the hilarious comments underneath each other's YouTube's videos.
The Grime MC and chart-topping singer-songwriter scrolled through the comments on 'Thinking Out Loud' and 'Cold' – and found some gems.
At one point a YouTube commenter shocks Stormzy by exposing the fact he used to be in the Boys Brigade.
Watch below:
Things got even funnier when a commenter says that Ed Sheeran's 'Thinking Out Loud' sounds like Chris Brown.
The pair look around confused before laughing.
Stormzy and Ed come to the conclusion that the British singer gets all the nice comments under his videos, while the public love to slate Stormzy.
"F*ck all that," joked Stormzy. "I wanna know who knew I was in the Boys Brigade! That's never even leaked."
Meanwhile, Stormzy recently topped the charts with his debut album 'Gang Signs & Prayer', while Ed Sheeran replaced him a week later with his new album 'Divide'.