Eastenders Viewers Mock Soap For 'Cringey' Stormzy Scene
14 June 2017, 11:13 | Updated: 14 June 2017, 11:14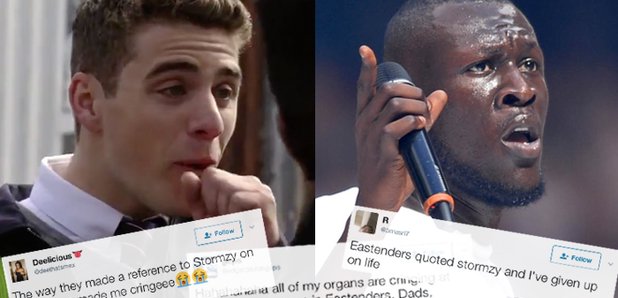 One Twitter user described the scene as "potentially the worst thing I've ever seen".
Eastenders viewers are describing a scene on Monday night's episode as 'cringey' after characters referenced Stormzy.
During the show, high school student Travis Law-Hughes is seen challenging fellow pupil Keegan Bakert to recite Shakespeare in front of a group of their peers.
"What do you know about Stormzy?" Keegan questions, before Travis says: "Well, I do know that you're getting way too big for your boots," in a clear reference to the Grime MC's chart-topping track.
The crowd surrounding the students proceeds to break into a rendition of 'Big For You Boots', much to the embarrassment of viewers at home.
Maybe Keegan isn't tough as old boots?!

We know he likes a bit of revenge though... pic.twitter.com/wHkgFknISA

— BBC EastEnders (@bbceastenders) June 12, 2017
Stormzy fans immediately flocked to social media to mock the British soap.
"...all of my organs are cringing at that Stormzy scene in Eastenders." said one Twitter user.
"After seeing this stormzy thing on eastenders I've come to the sad conclusion I no longer wish to live." said another.
What was that Shakespeare/Stormzy scene? #eastenders pic.twitter.com/DvMHCFWw3O

— lol (@AlonsoFan115) June 12, 2017
Eastenders quoted stormzy and I've given up on life

— R (@bmasri7) June 12, 2017
That Eastenders Stormzy scene is potentially the worst thing I've ever seen

— Matt Naden (@Naden96) June 12, 2017
Eastenders' Stormzy reference is so cringey that I want to erase it from my memory and disappear forever

— James Tudge (@tudgej) June 14, 2017
I REFUSE TO BELIEVE EASTENDERS HAD A STORMZY/SHAKESPEARE SCENE WHAT IS GOING ON W TELEVISION

— el (@LORELAlS) June 13, 2017
Stormzy is yet to comment on the scene.
In related news, the rapper took to the stage at Capital's Summertime Ball last weekend.
The show saw Stormzy perform his breakthrough hit 'Shut Up' to the 80,000 strong crowd, as well as this year's 'Big For Your Boots'.