Stormzy Disses LBC Over Knife Crime Accusations, Confronts Them Live On Air
1 March 2017, 16:43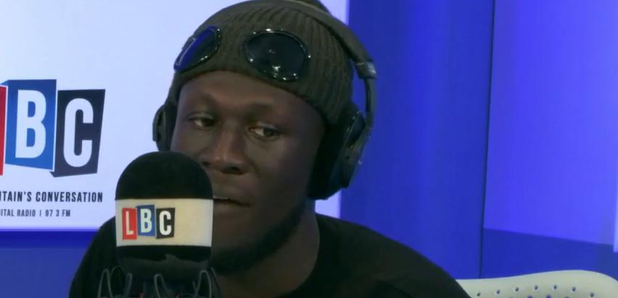 Stormzy confronted presenter Shelagh Forgarty.
Stormzy went on LBC to discuss why he dissed them on his new album 'Gang Signs & Prayer'.
The Grime MC previously accused the radio brand of affiliating his music with knife crime and called them out on new song 'First Things First'.
However Stormzy sat down with LBC's Shelagh Fogarty to discuss the topic of knife crime, Grime music and why he dissed them on 'Gang Signs & Prayer'.
Watch the full debate below:
Stormzy's feud with LBC began after a caller on the radio station said that he had listened to albums by Grime artists such as Skepta and Stormzy and thought that the genre was responsible for knife crime in London.
However Stormzy clapped back live on air. "That is such a farfetched statement," he began.
"For someone to say that Grime Music is the reason for the country"s knife crime epidemic – that is wild! How do you even get there?"
Stormzy went on to explain that he attempts to reflect his environment and not promote any violence or criminal activity.
"Our truth and where we come from is so different, I don't even expect the world to get it."
At the end of interview Stormzy made peace with Fogarty and spoke on the importance of everybody coming together.
Meanwhile, Stormzy's debut album 'Gang Signs & Prayer' is out now.
Check out the original story on LBC.