Stormzy's Performance At The 2018 BRIT Awards Sparks Passionate Reaction On Social Media
22 February 2018, 10:15 | Updated: 22 February 2018, 10:24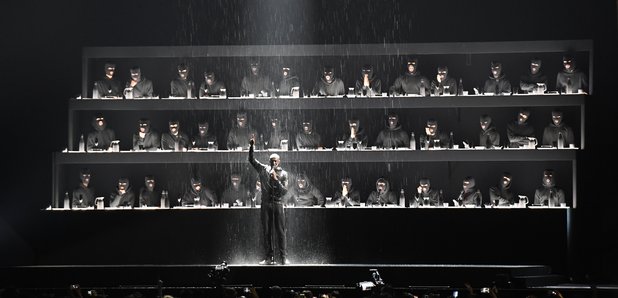 What a performance!
Stormzy delivered a stunning performance at the 2018 BRIT awards, which included a medley of songs.
The rapper, who won Best British Male and Best British Album, hit the stage for a stunning rendition of 'Blinded By Your Grace Pt.2', 'Big For Your Boots' and a new freestyle.
Love you all, thank you, thank God, emotional, overwhelmed, speechless...gonna go have a drink and party with my family

— #GSAP (@Stormzy1) 21 February 2018
Stormzy took the opportunity to send a strong message to Theresa May about Grenfell and also The Daily Mail, who have repeatedly showed the rapper a lack of respect in the past.
Following the show-stopping performance, which was overlooked by Kendrick Lamar, people took to Twitter to weigh in on what they had witnessed.
Check out some of the best reactions below:
Congratulations @Stormzy1 for winning your first #BRIT award, and what a powerful performance. #Grenfell

— Jeremy Corbyn (@jeremycorbyn) 22 February 2018
Stormzy for Prime Minster

— Jourdan Dunn (@missjourdandunn) 21 February 2018
Not usually the kind of post we would make, but it was really refreshing to see #Stormzy at the #Brits last night. Great to see a young person involved and engaged in politics. Hopefully he can get the younger generations more interested in using their vote. pic.twitter.com/gHwy20MfdL

— NHS Million (@NHSMillion) 22 February 2018
Stormzy just destroyed Theresa May and the Daily Mail in front of a worldwide audience. An absolutely decent human being and he deserves every success that comes his way.

— Rachael (@Rachael_Swindon) 21 February 2018
Stormzy sent for Theresa May live on brit award main stage ?

The people's champion.

— Link In Bio ! (@SeunFarda) 21 February 2018
stormzy calling out the government about the money for grenfell was iconic as fuck

— Sophie Jones (@sophsjonesy) 21 February 2018
Stormzy just sang "Theresa May, where's the money for Grenfell? You think we forgot about Grenfell?" live on stage at the #BRITs.

He is this country's biggest asset, musically and politically.

— Shelly (@ShellyAsquith) 21 February 2018
Stormzy brought religion, politics, and road to the #BRITs Backed it for Grenfell, gave a shout out to Daniel Kaluuya & Jourdan Dunn, sang in the rain, and didn't get muted once. He's a legit national treasure

— Elizabeth Pears (@BizPears) 21 February 2018
Think what you will about Stormzy's music, but to take the opportunity to speak out for the people on such an influential stage takes bravery – and hopefully others follow suit.

Huge respect to him.

— Ben Webb (@BenWebbLFC) 22 February 2018
Stormzy calling out Theresa May and the gov about Grenfell on big big Brit awards? Someone tell the queen to Knight this man pls

— Akeeb.A (@AkeebLDN) 21 February 2018
Meanwhile, Stormzy's performance was a stark contrast to Kendrick Lamar's, who appeared to be hit with a series of technical difficulties.
The BRITs appeared to mute large parts of his performance, which angered lots of fans on social media.