Watch Stormzy's Amazing Rap Battle With Kevin Hart
21 January 2016, 09:38 | Updated: 21 January 2016, 09:50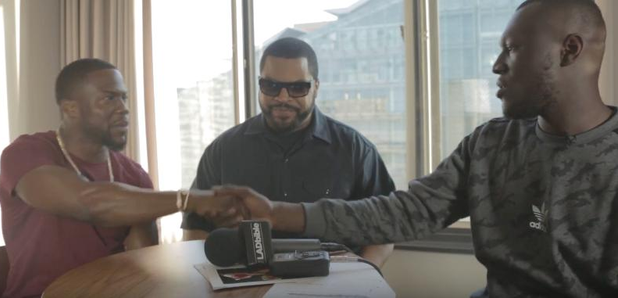 The comedian shows off his freestyle skills.
While over in the UK promoting new movie Ride Along 2, Kevin Hart got involved in an amazing rap battle with Stormzy.
The US comedian kicked things off by dropping an impressive freestyle off the top of his head to Stormzy's 'Shut Up' instrumental, before the Grime MC hit back with a big freestyle of his own.
"I don't like to show that I'm talented over multi platforms," joked Hart.
Watch the amazing moment below:

Ice Cube, who was overseeing the 'battle', was very diplomatic with his judgement over a winner.
The former NWA rapper eventually declared Hart a winner for his freestyle skills but also commended Stormzy for "written down rhymes and killing it".
Kevin Hart and Ice Cube's new movie 'Ride Along 2' is out now.