Skepta Gets Shout Out From Adele, Twitter Erupts
16 May 2016, 13:12 | Updated: 16 May 2016, 16:41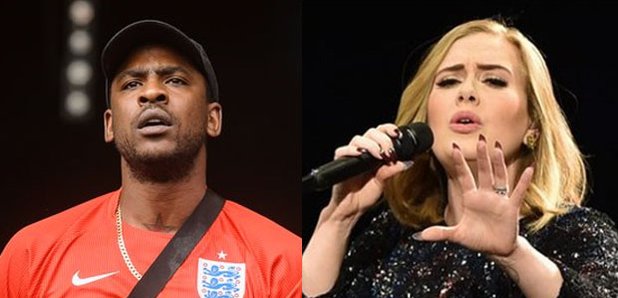 Adele showed her appreciation.
Skepta received a monumental shout out from Adele on Twitter and Instagram.
The 'Shutdown' rapper, whose new album 'Konnichiwa' is currently top of the UK charts, was saluted in front of her 37.5 million followers across both social platforms.
"Tottenham Boy," she said, alongside a love heart emoji.

Skepta responded by retweeting the post and adding: "Love you," alongside a rose emoji.
RT @Adele: Tottenham Boy #konnichiwa pic.twitter.com/6aE1e4GOJs << Love you.

— SKEPTA (@Skepta) May 15, 2016
As expected Twitter exploded with excitement.
Check out some of the best reactions below:
BROOO SKEPTA GOT THE ADELE S/O pic.twitter.com/VJme3IcPfA

— Supreme Ruler (@Bravo_flatt) May 16, 2016
Adele needs to give Skepta a hook so he can get money from soccer moms.

— João Matthews (@joaomatthews_) May 15, 2016
So first Adele shouts out Stormzy now she's posting a pic of Skepta on her insta realest g

— angel emoji (@lolzdonz) May 15, 2016
Adele showing Skepta love is super dope.

— #GoodKush (@chrisbisdope) May 15, 2016
Adele X Skepta would break the world

— 21Samvage (@AwfulSam) May 15, 2016
Adele and Skepta collab = greatness

— Deepak Sharma (@96Deepak) May 15, 2016
how jealous do you think Stormzy would be if Skepta and Adele did a track together

— :) :( (@wtfayisha) May 16, 2016
This is not the first time Adele has shown appreciation for Grime music, after previously admitting she was a "big fan" of Stormzy.
The '25' singer gave Stormzy a shout out live on stage during her London show and sent him a personalised message.