Why Was Skepta's BRIT Awards Performance Muted?
22 February 2017, 21:26 | Updated: 23 February 2017, 21:27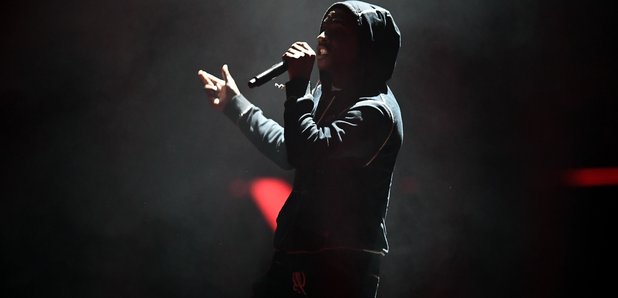 People are fuming.
Tonight (Wednesday 22nd February) Skepta performed at the 2017 BRIT Awards broadcast on ITV, but there was on thing very wrong with his performance - parts of it were muted.
Watch the unedited performance below:
While fans were happy to see Skepta (and Grime, in general) finally represented at this year's BRIT Awards with nominations and performances, they took to Twitter to express their frustration at Skepta's performance being muted, even after 9pm.
Why would they get skepta for the brits if they know his songs have swearing in and muting it! So annoying

— Charly Russell (@charlyrussell_) February 22, 2017
Muting Skepta's performance was disgraceful man just let people shine

— Rick (@Rikk23_) February 22, 2017
Stop muting Skepta it is after the watershed #BRITs2017

— Pauline Murphy (@paulinemurphy30) February 22, 2017
Reminds me of the Kanye performance constantly muting, hardly seems worth it at times. Still did well skepta #britawards #brits #BRITs2017

— ChezG (@XchezaliciousX) February 22, 2017
Also obligatory fuck you to itv for muting 'pussy' from skepta in shutdown but it's fine for him to be introduced as 'batshit crazy'

— Daniel George (@dan356) February 22, 2017
Fans also were quick to mention that Dermot said the phrase "batshit crazy" live on the show and yet was not muted.
Dermot literally just said "bat shit crazy" but itv is still muting bits of skepta's performance #brits

— olivia (@livvyscf) February 22, 2017
Dermot just said ' bat shit crazy' yet they're muting skepta?! EH?! #BRITs2017

— ashleigh (@asherss92) February 22, 2017
... They're muting Skepta but they let Dermott say "Batshit crazy" live? WE CAN SEE WHAT YOU'RE DOING BRITS/ITV, IT'S NOT OKAY. pic.twitter.com/TWgNZhF8qr

— Courtney (@BuckTheWorld) February 22, 2017
Muting Skepta swearing yet still broadcasting the words "piss" and "batshit"

— Ria (@Ria_Odell) February 22, 2017
Muting Skepta and not Dermot for 'obscene' language is bull shit. Disparity right there. You can't censor one and not the other? #brits

— Joshua Rumble (@joshuarumble) February 22, 2017
There's been no comment from ITV.
See the winners list from the 2017 BRIT Awards.