Skepta: "Adele Texts Me All The Time & Keeps Me In Check"
10 November 2016, 16:29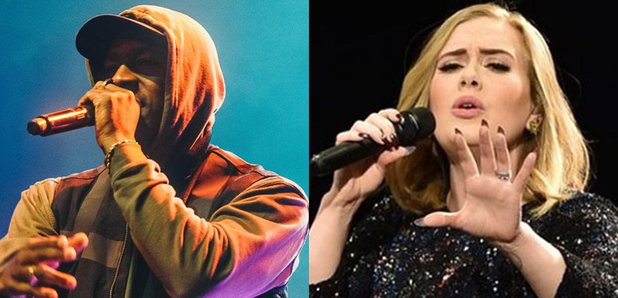 Skepta and Adele are closer than you thought.
Skepta has revealed that he regularly gets advice from Adele via text message.
The Grime MC, who comes from the same Tottenham neighbourhood as Adele, revealed that the 'Hello' singer is the voice of reason in his life.
"Adele texts me all the time and keeps me in check. She speaks to me about how things are going," he told ES Magazine.
"She's one of the people I know that, from her [example] alone, you can move in a certain way where you're not inviting fame.
"She's the biggest artist in the world, bro, and you do not see her in the papers [every day]."
However despite their relationship, Skepta is still unsure about whether a collaboration will happen.
"With those kind of things, I don't really know," he said.
"With Drake and Adele, I'm happy firstly that they respect me as an artist and a man."

This isn't the first time that Skepta and Adele have shown their appreciation for each other, with the singer giving him a shout out on social media earlier this year.
Interestingly, Skepta also revealed his mixed feelings about the current Black Lives Matter protests in the UK.
"I've been to a few protests before and the thing I protested about still happened after," he said.
"[I know] the intention of protest is to make noise and stand up for something but I don't know if I'd actually go to a protest again.
"I don't want to kill no one, I don't want to hurt anyone, I don't want to bomb anywhere and I don't think my friends want to do that either. I think that's the better solution.
"If it comes from within then there's nothing to protest about. This is not me in no way, shape or form saying I support any of these things that are happening. I hate them, they shouldn't be happening."
Meanwhile, Skepta also gave his thoughts on Donald Trump's surprise U.S. presidential election.