17 Skepta Lyrics That Will Leave You Feeling Inspired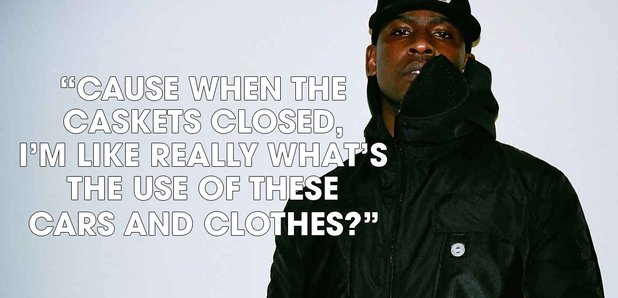 Skepta's lyrics are filled with inspirational gems.
Skepta's rise to greatness over the past 18 months has been incredible.
The Grime star has released bangers like 'That's Not Me', signed Drake to BBK, and even picked up the 2016 Mercury Music Prize for his album 'Konnichiwa'.
But his true supporters will know that his success has been mapped out through his inspirational lyrics.
Below we round up some of his greatest advice.
On being yourself:
"You tryna show me your Fendi,
I told you before, this sh*t don't impress me/
I bet I make you respect me,
When you see the mandem are selling out Wembley" - 'Shutdown'

On staying humble:
"Boy Better Know man went to the BRITs on a train, Think it's game/ Man shutdown Wireless, then I walked home in the rain" - 'Konnichiwa'

On chasing your dreams:
"Said I'll be a big MC by end of school term and they thought I was joking/ Now I got 15 girls in my bed and each and every one of them's roasting" - 'Same Sh*t Different Day'

On staying focused:
"Cause when the casket closed, I'm like really what's the use of these cars and clothes? if man don't wanna switch up, I'ma go hard on my own" - 'Konnichiwa'

On haters:
"They wanna see me drown, Tryna hold the mandem down/ Cause I shutdown Shoreditch car park and I got bars like Camden Town" - 'Man (Gang)'

On embracing your background:
"I had to tell my story cause they'd rather show you Black kids with flies on their faces on the television" - 'Oluegba (Remix)'

On fame:
"They say why work all this time, to get famous Joseph/ Just to have to wear sunglasses, cause you don't wanna get noticed" - 'Big'
On staying loyal to your friends:
"I know empty, I know hollow/ I just flew my Gs out to Amsterdam and told them "thank me tomorrow" - 'Corn On The Curb'

On earning respect:
"This year man are tryna get cheques, before that I'm tryna get respect" - 'Numbers'

On listening to your mum:
"Ever since mum said, "Son you are a king, I feel like Floyd when I'm stepping into the ring." - 'Oluegba (Remix)'
On turning your life around:
"Flashback to the cold nights in the trap, Now I'm the whip counting the big stack/ Yellow-gold chains and the diamonds are black" - 'That's Not Me'

On judging people:
"My teacher told me I'm a side man, I told her to remember me/ Now they wanna email me, asking if I can talk to the kids in assembly" - 'Castles'

On relationships:
"Sometimes I don't text you back, But I never mean to disrespect you/ I'm on the road tryna do this ting/ I know you see where man's tryna get to" - 'Text Me Back'

On pride:
"No one's praising Boy Better Know for getting off the ground/
So I ain't jumping off my high horse anytime soon cause it's just too far down." - 'Blow My Own Trumpet'

On mourning:
"Supposed to be grieving, but instead I'm in the hood with the whole team scheming/ Supposed to be leaving, but I stay right here cause my heart still bleeding." - 'Lukeys World'


On avoiding negative influences:
"I said Solo fam, I won't lie/ We ain't gonna buss in this ting if 24/7 us man are on crime" - 'Straight Up (Remix)'

On making time for people:
"I hate when I'm a bad mood and I see all my supporters vybzin/ And apologies to anyone I've taken a pic with when I weren't smiling" - 'Big'
Keep the wisdom coming, Skepta.