Rihanna's Savage X Fenty London Pop-Up - Opening Times, Location And More Details Revealed
13 June 2018, 15:34 | Updated: 13 June 2018, 16:59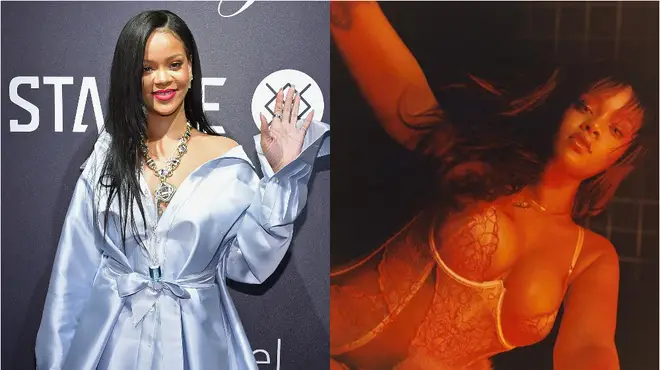 Rihanna's bringing Savage X Fenty to London.
Rihanna is bringing her lingerie collection to London in the form of a pop up with plenty of surprises.
After launching Savage X Fenty back in May, most of the underwear items quickly went out of stock and now you can get your hands on the range, up close and personal.
The best part of it is you could potentially get to bump in to the 'Diamonds' singer herself so here's everything you need to know about the Savage X Fenty London pop up including location, opening times and more.
Where is the Savage X Fenty pop up going to be?
Shoreditch Studios, 37 Bateman's Row, London EC2A 3HH.
What days will the pop up be open?
From Wednesday June 13th to Sunday June 17th.
What time does the Savage X Fenty pop up start?
Wednesday June 13th (11am- 7pm)
Thursday June 14th (11am- 7pm)
Friday June 15th (12pm- 8pm)
Saturday June 16th (10am- 6pm)
Sunday June 17th (10am- 3pm)
Who is going to be there?
According to the Savage X Fenty Instagram page there are going to be "special guests and daily surprises" that fans are "not gonna want to miss."
Will Rihanna be at the pop up?
Considering Rihanna regularly turns up to her Fenty Beauty launches around the world, it wouldn't be a surprise if Riri turned up in Shoreditch. She also recently told Vogue that: "I love seeing the reaction to Savage X Fenty in person, so having a pop-up shop is really exciting for me!"
What is the hashtag for the event?
#SavageXPopUp
What will you be able to buy at the Savage X Pop Up?
You'll be able to get some items from the different collections like U Cute, Damn and Black Widow.
What will I be able to get from the Savage X Fenty collection?
With most of the lingerie on the site sold out, fans can expect their favourite items to be available on the shelves and who knows maybe there might be some new goodies?
How much are the items in the Savage X Fenty collection?
The line consists of bras, knickers, thongs, teddies, corsets, bodysuits, robes and a pair of handcuffs (of course.) The knickers range from £16 to £30, while the bras range from £24 to £59. The lingerie items range from £30 for a garter to £109 for a lace catsuit.