Rihanna Just Dropped 'Work' Feat. Drake And Twitter Went Crazy
27 January 2016, 14:41 | Updated: 27 January 2016, 15:44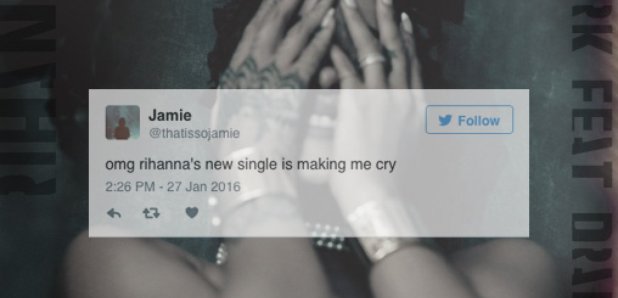 Rihanna is back!
Rihanna's just released her new single 'Work' featuring Drake, from her upcoming album 'ANTI'.
Rih Rih glides over the reggae-themed single while Drizzy adds some silky vocals.
After months of teasing, the singer finally dropped the highly-anticipated track and Twitter understandably went crazy!
Some fans just couldn't handle it:
omg rihanna's new single is making me cry

— Jamie (@thatissojamie) January 27, 2016
WORK BY RIHANNA AND DRAKE IS SO GOOD CAN I CRY

— britt (@hungryxdallas) January 27, 2016
Work - Rihanna ft Drake >>>>>>> omfg I'm about to cry

— . (@queenaalyce) January 27, 2016
When you don't understand half the things Rih saying but you getting snatched anyways #WORK pic.twitter.com/xYQ1mdlsWm

— carrie bradshaw (@wanderlustkilam) January 27, 2016
Listening to #WORK like.... @rihanna @Drake pic.twitter.com/qQ1d4org3N

— Music Choice (@MusicChoice) January 27, 2016
While others weren't impressed:
Wow I'm sorry but that new Rihanna ft. Drake is terrible.....I hate it

— burrr' (@bURR___) January 27, 2016
Well, I don't hate Rihanna's new song with Drake ("Work"), but I definitely don't love or even like it much. I'm a bit disappointed

— Trent Vierra (@trentvierra) January 27, 2016
I actually don't like Work by Rihanna ft Drake too much. It's like all the time yelling work. Sounds great but not for a single... luv u Ri!

— Just The Preliminary (@Drewways) January 27, 2016
Some fans really didn't understand the words:
Rihanna was slurring her words in work though. The only words I heard was work & try me. Even drake was slurring his words

— ja'mie (@adebongaa_ox) January 27, 2016
I don't mind the new Rihanna and Drake song, but it sounds like she's just mumbling since she's not finishing the words

— Lexy (@AustinR5Ally) January 27, 2016
Rihanna's new song is TRASH!!!!! I understood maybe 2 words nd Drake's part in the whole song, if you can even call it a song.

— Susie (@Susie_4186) January 27, 2016
Can't Rihanna and Drake just be a couple already?
Drake and Rihanna collabs are relationship goals

— Vanessa Ann (@vanessaannr) January 27, 2016
Why can't Drake and Rihanna just date already they would be such a power couple

— e (@elifxkilic) January 27, 2016
Drake and Rihanna got good chemistry...i like all they songs together....even "Take Care"

— SC: Felz713 (@Felz_) January 27, 2016
People always say they want Nicki Minaj & Drake to date when realisticaly Drake & Rihanna would be the illest power couple of all time..

— Fidel Cashflow (@Loseph94) January 27, 2016
But people really can't wait for the music video:
So...music video? @rihanna @drake pic.twitter.com/Yh3cpweQ9H

— lord split me open (@naturalIy) January 27, 2016
NOW WE WAITING FOR THE MUSIC VIDEO #WORK @RIHANNA @DRAKE SLAY.

— WORK WORK WORK (@Rajae_NavyGirl) January 27, 2016
IMAGINE: RIHANNA SING 'WORK' WITH DRAKE IN MUSIC VIDEO #WORK

— ㅤ (@cxtieash) January 27, 2016
Rihanna's new album 'ANTI' still has no release date.