Rihanna Fans Stunned After Finding Out Reason Behind 'Fenty Beauty' Name
21 September 2017, 13:36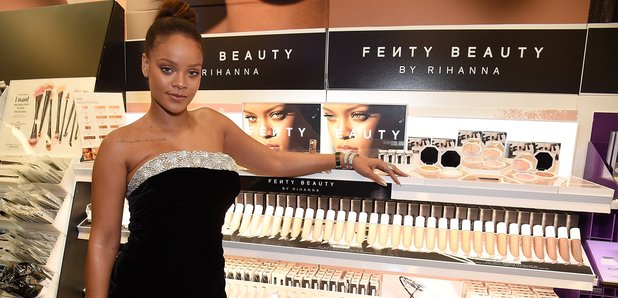 Some fans are mind blown.
Rihanna's new make-up line 'Fenty Beauty' sent many fans into a frenzy when it dropped two weeks ago.
The 'ANTI' singer's debut collection has been praised for its wide range of shades however many fans were left extremely confused by Rihanna's choice of name for the products.
Rihanna named the brand after herself – for those unaware, her real name is Robyn Rihanna Fenty.
The 29-year-old rarely uses her family name professionally but called her lucrative Puma collaboration 'Fenty x Puma'.
However despite Rihanna never hiding her name from the public, fans have taken to Twitter express their shock at the discovery.
I just found out that Fenty is actually Rihanna's last name pic.twitter.com/Sd7lDZFpRi

— Bea Nicor (@beanicor) 20 September 2017
FENTY IS RIHANNA'S LAST NAME SAY WHAT I am the worst fan ever pic.twitter.com/Kp4D6HbdF3

— HENSLEY (@HensleyU) 12 September 2017
Just found out Fenty is Rihanna's surname and not just a made up word

— Rhianna (@rhiannaoliviab) 14 September 2017
Okay I'm not gonna lie I had no idea Rihanna's real name is Robyn Fenty lmao

— ㅤ (@ShortHairRasta) 21 September 2017
wait rihanna's real name isnt rihanna?

— d (@judasfenty) 20 September 2017
As if Rihanna's real name is Robyn Rihanna Fenty

— Ella Dowling (@ellaadowling) 20 September 2017
Rihanna Fenty is her real name wow

— Darth Morty (@jawnlouis) 20 September 2017
Rihanna's real name is Robyn Rihanna Fenty..... idk why but I wasn't expecting that????

— chels (@chelsstarrr) 9 September 2017
Meanwhile, Rihanna recently officially launched Fenty Beauty at London's Harvey Nicols store.
The Bajan superstar posed with fans and was also pictured doing makeup for people.