Rihanna Hilariously Throws Shade At Helena Bonham Carter's Fashion Sense To Her Face In New Interview
18 June 2018, 14:55 | Updated: 18 June 2018, 15:01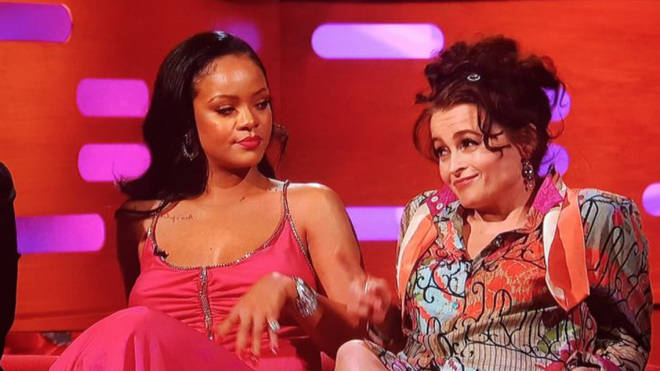 Rihanna was quick to jokingly throw shade at her cast mate...
Rihanna hilariously threw shade at her fellow Ocean's 8 co-star Helena Bonham Carter's fashion sense during an interview with Graham Norton.
The pair were also joined on the sofa by other Ocean's 8 stars including Sandra Bullock, Sarah Paulson and Cate Blanchett,when the topic of the Met Gala was mentioned.
The actresses began discussed the event, which features heavily in new the movie, with Rihanna recalling some of her most famous Met Gala dresses.
As Helena Bonham Carter revealed she was the only member of the cast on the sofa that hadn't been invited to the Met Gala, Rihanna was quick to clap back jokingly.
"That's because you wear dresses like that," she said.
Watch the footage below:
Following the incident, which was not missed by Twitter, fans expressed their joy at Rihanna's savage comment.
Why did Rihanna come for Helena like that omg that would hurt my feelings like a motherfucker. LMFAO AJSHDJSJJWJS

— ⚢🎱 (@juliannesmoores) June 15, 2018
i felt so bad when rihanna roasted helena :(

— paola 🍒 (@Iapfeiffer) June 16, 2018
helena: i haven't been to the met gala

rihanna: it's because you wear dresses like that

I'M GONE

— redacted lesbian (@lostageless) June 18, 2018
During the interview Rihanna also confirmed that she is currently in the studio working on her upcoming album.
Meanwhile, new movie Ocean's 8 is out now and has received warm praise so far, although there are some critics of the film's script and plot.