Watch The Moment Rihanna Threw Money At BET's Head Of Programming In Anger
29 June 2015, 13:46 | Updated: 29 June 2015, 13:51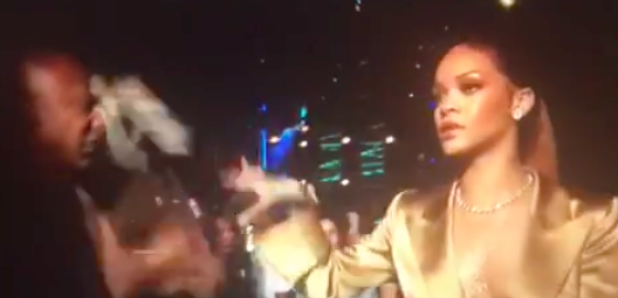 Singer appears to throw stack of dollars in anger at BET Award's Head Of Programming.
Rihanna threw a bundle of money at BET's President of Programming Stephen Hill in a moment of anger at last night's award ceremony.
The incident occurred backstage just before Rihanna was due to introduce the trailer for her 'Bitch Better Have My Money' music video.
The 'FourFiveSeconds' singer was reportedly planning to use the money as part of a promotional stunt, planning to throw it out to the audience.
In the footage, Rih appears to ask Hill, who told her she can't throw the money, "But why?" adding "This why I f***king hate coming to BET" before throwing a wad of cash at him and walking out on stage in a huff.
Watch the moment below:
Rihanna wanted to throw money in the crowd & BET refused so this is her response. CRYING. pic.twitter.com/sfsyQIbayl

— Boqor Riya. (@HausOfRiya) June 29, 2015
She later posted a picture of her kissing Hill on her Instagram captioned "thank you [Hill] for a fun night in celebration of black music!!". Hill also posted the same photo, writing "We kissed and made up". BET have since told Billboard that the altercation was staged.
— Princess Venus (@Illumi_NOTme) June 29, 2015

"Bitch let me throw my money!" *rihanna voice*

— Black Girl Magic (@OxtailGravy) June 29, 2015

Nothing makes me happier than seeing Rihanna throw that money at that guys face #real

— Diana Perez (@Mamidrizz) June 29, 2015
Rih's other antics that night were more successful. She put the roll of duck tape she brought along with her to good use, taping Floyd Merrywhether's – who was seated next to her – mouth shut.
Rihanna like shut up Mayweather pic.twitter.com/ipU9d9KGp5

— Rihanna (@fentynna) June 29, 2015