'Thickanna' Has Returned And The Navy Cannot Get Enough
30 May 2017, 12:52 | Updated: 30 May 2017, 13:02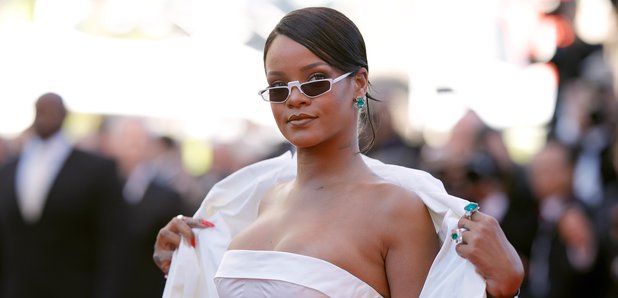 Rihanna is looking ALL kinds of glorious.
We see you, Rihanna - the 'Thickanna' era is officially back and everybody is rejoicing.
The stunning R&B singer has been spotted flaunting a curvier figure of late, recently donning a pair of skin-tight jeans during an outing in New York City which left the Internet swooning.
Appreciation posts from fans across the globe soon flooded Twitter, showering the Bajan star with compliments on her shape.
Yass Thickanna in full effect pic.twitter.com/ZD7NMwPQpc

— мαriam (@africaries) May 24, 2017
I'm here for this thick Rihanna. that late 20's weight look good on her pic.twitter.com/ODU1E8k2Cn

— c (@chuuzus) May 24, 2017
okay Thickanna i see you pic.twitter.com/nSL9OIT2WF

— dunja (@shesDunja) May 24, 2017
let's discuss these thighs #thickanna pic.twitter.com/3HouxAgd7l

— taylor-dior rumble (@taylordiorr) May 25, 2017
Users also threw it back to Rihanna's various Cropover looks over the years.
The 'Needed Me' singer is a regular face at the colourful summer festival in Barbados.
Thickanna pic.twitter.com/S9TkDXQDmi

— Muna Mane (@LadyOnTheMuna2) May 10, 2017
Thickanna is my new body goals pic.twitter.com/vOsG4EK8Er

— Briana (@OhMy_Gause) May 27, 2017
Thickanna at Crop Over is a concept pic.twitter.com/TDeVR1GbkF

— ANTI (@Paradise1Chloe) May 29, 2017
In fact, RiRi has been rocking this look for years.
Thickanna in Barbados 2k15 pic.twitter.com/0Wyz6ksPRy

— Muna Mane (@LadyOnTheMuna2) May 26, 2017
thickanna was a time to be alive pic.twitter.com/RbyL3HVC1Y

— corri (@pettyperrie) May 4, 2017
#ThickAnna pic.twitter.com/jYLbMzCI4T

— Shaun Juan (@ShaunJuan2) April 27, 2017
Rihanna herself coined the term 'Thickanna' back in 2013 after a fan asked her if she was gaining weight.
The confident star replied, "Yasss! #progress #operationThickanna" and a new age began.
Keep slaying, Ri.