Rihanna, Alicia Keys, Ariana Grande & More Join Women's March Rallies - WATCH
23 January 2017, 10:11 | Updated: 23 January 2017, 10:23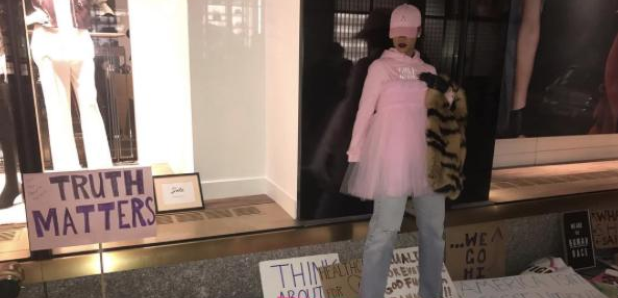 The stars were out in full force.
Rihanna, Alicia Keys, Ariana Grande, Janelle Monae and more famous faces were on the front lines of Women's March Rallies across the US.
While a number of similar anti-Trump protests took place around the world, Rihanna was spotted at the march in New York, where the singer protested alongside fans outside Trump Tower.
Wearing a hoodie that read "This P*ssy Grabs Back", RiRi chanted with protesters: "Welcome to your first day. We will not go away!"
Watch below:
The time I got off a plane from Australia, headed to Trump Tower & ended up protesting next to @rihanna. #WMNYC #WomensMarch #Rihanna pic.twitter.com/rqeJmU590X

— Laura von Holt (@vonHottie) January 22, 2017
when you and @rihanna support the same causes and also standing two feet in front of you pic.twitter.com/tYwXTWzwOR

— ⌷ ffs kid ⌷ (@thvtkidcourt) January 22, 2017

"So proud to be a woman," Rihanna said on Instagram. "So proud of the women around the world who came together today for pro-choice!"
A number of other stars including Alicia Keys, Janelle Monae, Madonna, were at a Women's March protest in Washington.
"We will continue to rise until our voices are heard," Keys told the crowd.
"Until our planet's safety is not deferred. Until our bombs stop dropping in other lands. Until our dollar is the same dollar as a man's. And we'll continue to recognize that, yes, we can."
Meanwhile, Ariana Grande was at the march in Los Angeles alongside her mother and grandmother.

"I'm so proud of / inspired by everyone who marched today and thankful that there are so many people on this planet currently celebrating how brilliant and magical women truly are!" she wrote on Instagram.
"Let's keep our voices loud, passionate & peaceful!"