People Think Rihanna Is Pregnant And Twitter Has A Lot To Say About It
27 July 2017, 14:39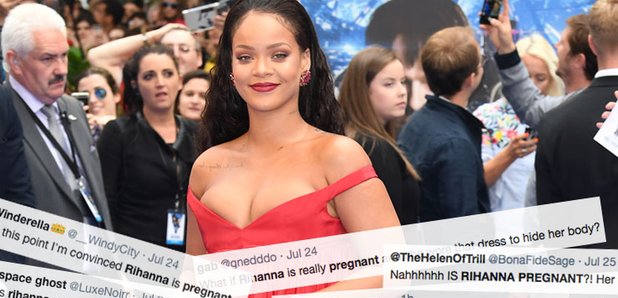 The star is currently promoting her role in the upcoming 'Valerian' movie.
Rihanna is no stranger to turning heads on the red carpet, and this week has been no exception.
During the press tour for her upcoming big screen role in 'Valerian and the City of a Thousand Planets', the Barbadian beauty has worn an array of show-stopping gowns and served up some serious looks.
The way @Rihanna is slaying these #Valerian red carpets pic.twitter.com/LiBRvAi5NG

— Capital XTRA (@CapitalXTRA) July 26, 2017
However, it's not just the dresses that have been making headlines - it's the speculation that the Ri has gained weight, and the possible reasons as to why.
In particular, many Internet users have questioned whether the star is pregnant and have taken to social media to discuss the matter.
Is rihanna pregnant? Her titties mad swole. Too swole... pic.twitter.com/ri5ivsku92

— space ghost (@LuxeNoirr) July 24, 2017
me trying to figure out if rihanna is pregnant or she is just eating good pic.twitter.com/eR8n4VRgMv

— (@zatqnna) July 24, 2017
What if Rihanna is really pregnant and she wore that dress to hide her body? pic.twitter.com/QbO4cfhhIY

— gab (@gnedddo) July 24, 2017
I lowkey feel #Rihanna is pregnant pic.twitter.com/iGrYyF2N7h

— IDARA (@na_idara) July 25, 2017
Rihanna is pregnant. She will announce it at the VMA's next month. Just watch

— . (@Bowtobee) July 24, 2017
Nahhhhhh IS RIHANNA PREGNANT?! Her nose!!!! pic.twitter.com/1l4FnjedGN

— @TheHelenOfTrill (@BonaFideSage) July 25, 2017
While Rihanna hasn't specifically addressed the ongoing pregnancy rumours, she has been proudly posting photos of her red carpet looks, including a boomerang of her dancing in a pink fringed two-piece.
Following the ongoing online speculation, many fans have been quick to jump to the defence of the R&B singers fuller figure.
Rihanna is not pregnant. Her man be feeding her right but of course y'all can't relate pic.twitter.com/PqKOXYk88J

— тяαρυиzєℓ (@Glowssy) July 24, 2017
STOP SAYING RIHANNA IS PREGNANT. SHE HAS POSTED MULTIPLE PICS/VIDS DRINKING ALCOHOL THIS PAST WEEK. SHE JUS EATING GOOD. DAMN. pic.twitter.com/CsDMYmm60Z

— lil nut (@Iildevil) July 25, 2017
STOP SAYING RIHANNA IS PREGNANT OR FAT. NO SHE'S NOT. MIND YOUR DAMN BUSINESS. FUCK YOU ALL. https://t.co/Fg87ekhWCg

— (@woo7me) July 26, 2017
Rihanna is not pregnant. She finally got a man that feeds her and making her feel bomb ass which is making her thick af. Please abeg

— Tatenda Chigodora (@Queened_Up) July 26, 2017
Thankfully, hoards of Internet users are celebrating the star's curvaceous silhouette.
Thick Rihanna > pic.twitter.com/I1tbIRxXMn

— Lou Will. (@GroovyCory) July 24, 2017
beyoncé & rihanna both thick & flourishing this summer. pic.twitter.com/yE5RvmizIP

— eric (@thetrillgent) July 25, 2017
Thick Rihanna is the best Rihanna. pic.twitter.com/avjwD6ZAkZ

— SHEGZ BABA (@shegz) July 25, 2017
#thickrihanna making me want my toast in the mornings

— Dinatokio (@dinatokio) July 27, 2017
'Valerian and the City of a Thousand Planets' is released in cinemas on 4th August, and stars model and actress Cara Delevingne alongside American actor Dane DeHaan.
In the movie, Rihanna plays the part of Bubble, a shape-shifting burlesque dancer.