Parrot Sings Rihanna's Part In 'The Monster' And Sounds EXACTLY Like Her - WATCH
21 February 2017, 10:48 | Updated: 21 February 2017, 10:57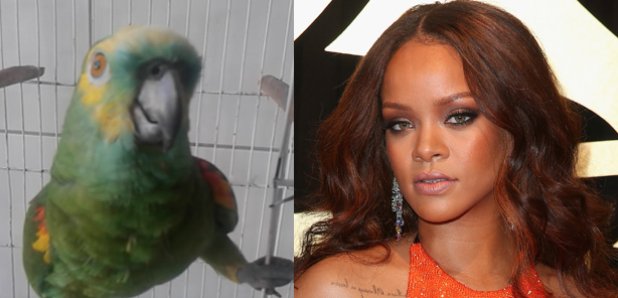 Honestly, this is incredible.
A video of a parrot singing an impression of Rihanna is currently sending the internet into overdrive.
Originally posted in March 2016, the clip has now resurfaced and shows an extremely talented parrot singing Rihanna's part in her hit Eminem collaboration 'The Monster'.
Honestly, shut your eyes and listen - you might genuinely mistake the bird for Rihanna.
Naturally, Twitter couldn't handle it.
Users couldn't believe how much the parrot sounded like the R&B singer, with some arguing it actually sounded better than Queen RiRi.
this parrot sings better live than Rihanna no shade https://t.co/okwBlUIpbH

— ㅤ (@DerpinBrian) February 18, 2017
It's 5am and I literally just slapped my knee after watching a video of a parrot singing Rihanna

— Ashley (@ashley_c_moore) February 21, 2017
Why does this parrot sing better than me? Smh Rihanna should be shook pic.twitter.com/ftiE4ztBKM

— Mahdi (@MindOfMahdi) February 19, 2017
This parrot singing #Rihanna The Monster sounds like me alone in the car. pic.twitter.com/xjrmFsbAln

— Jason Cage (@CageShow) February 20, 2017
omg at a parrot singing monster better than rihanna

— Giz The Wiz (@Loungersz) February 17, 2017
These are dark times but I am mesmerized by this parrot singing Rihanna https://t.co/Oqdr9IIB7G

— Shon Gale (@shonitoburrito) February 17, 2017
Possible feature on the next album, RiRi?