People Are Slamming Kim Kardashian For 'Copying' Rihanna In Her Latest Campaign
30 August 2018, 15:37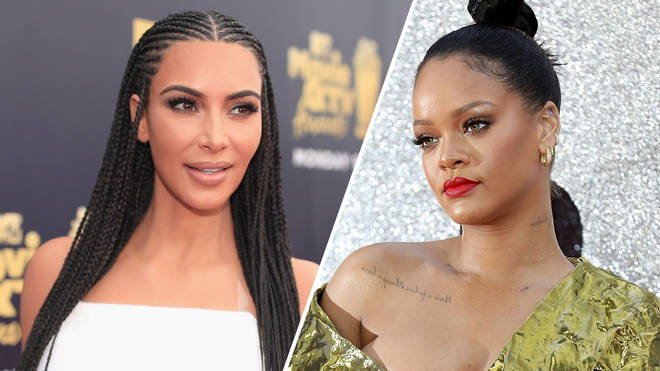 A new KKW Beauty video has raised some eyebrows.
Kim Kardashian has come under fire amid claims that she 'copied' Rihanna with her latest cosmetics campaign.
The reality TV star is preparing to launch the latest addition to her KKW Beauty product range, the 'Ultralight Beams' lipgloss, which drops tomorrow (Friday 31st August.)
A video advertisement for the product was posted on Kardashian's social channels, which shows the mouth of a model as she applies the shimmering gloss onto her lips.
The model in the footage has a gap between her two front teeth - a feature that popular fashion model Slick Woods famously rocks.
Woods appears heavily in Rihanna's campaigns for her Fenty Beauty cosmetics line, as well as various fashion campaigns by the 'Needed Me' singer.
People soon began comparing the similarities between Woods and the model used in Kardashian's new campaign. Many also pointed out the look-a-like nature of Kim's new lip glosses and Rihanna's previously released 'Gloss Bomb' lip glosses.
"Kim Kardashian doesn't know to do anything but steal from black women," wrote one user. "Her new lipgloss is just like the gloss bomb from Fenty Beauty AAAANNND she has a model similiar to Slick Woods. WTF?"
Both Kardashian and Rihanna are yet to comment on the claims. This isn't the first time Kim has been accused of copying someone else's ideas.
In April this year, the mother-of-three was accused of stealing the iconic design of Jean-Paul Gaultier's perfume bottles for her own KKW Beauty fragrance packaging.
Additionally, she was accused of ripping off the designs of celebrity makeup artist Pat McGrath following the release of one of her new eye shadow palettes at the time.
Meanwhile, Rihanna recently linked up with a heavily pregnant Woods, who is expecting her first child.