Kendall Jenner Named Fashion Icon Of The Decade Over Rihanna & Twitter Is Mad
31 August 2017, 12:40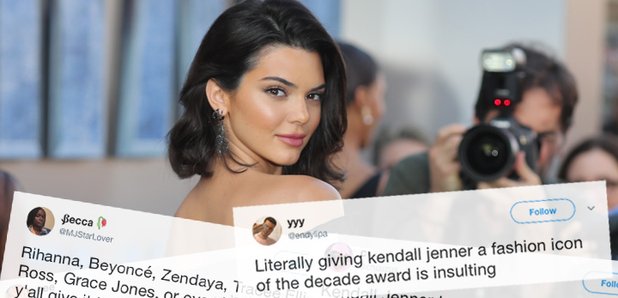 "10 years ago she was 11 years old!"
Kendall Jenner is to be named Fashion Icon of the Decade at New York Fashion Week next month.
The 21-year-old model is set to be honoured with the accolade as part of the Daily Front Row's 2017 Fashion Media Awards, Fashion Week Daily reported on Tuesday.
Jenner will receive the honor on 8th September at the high-profile award show, which will be hosted by fellow supermodel Ashley Graham.
Follow us: @MailOnline on Twitter | DailyMail on Facebook
ICONIC // @KendallJenner to receive Fashion Icon of the Decade at the @DailyFrontRow Fashion Media Awards https://t.co/B3m0Ja0tf9 pic.twitter.com/8XKFbYlU4U

— MODELINIA (@Modelinia) 29 August 2017
While many fans of the model took to social media to congratulate the star on the illustrious honour, others weren't convinced that she fully deserved it.
Following the announcement, Internet users were quick to suggest other figures who were perhaps more worthy of the award - namely, Rihanna.
"Excuse me but how did Kendall Jenner win fashion icon of the decade when Rihanna exists?" said one.
Others also suggested Jenener should have taken a backseat to her rumoured love interest, rapper A$AP Rocky.
"How did kendall jenner get fashion icon of the decade my mans asap rocky got robbed" said another.
Rihanna, Beyoncé, Zendaya, Tracee Ellis Ross, Grace Jones, or even Yara Shahidi and y'all give it to Kendall Jenner? https://t.co/bIGAM4f3vS

— Ᏸecca (@MJStarLover) 29 August 2017
Rihanna has more originality in her pinky then Kendall Jenner has in her whole body and that's the tea https://t.co/o0CunRtZR7

— gee (@ultincles) 30 August 2017
i'm tired of y'all giving Kendall Jenner credits that she doesn't deserve. Kendall is not the fashion icon of this Decade. Rihanna is. pic.twitter.com/eWARrnG3tb

— c (@chuuzus) 29 August 2017
im sorry is Rihanna dead? did she die and no one told me? why is she receiving this? pic.twitter.com/k9U9TNkl3H

— mars (@yvessaintmoss) 29 August 2017
Hm i can name a few ppl that are more iconic than fucking Kendall Jenner. Tyler??? Rocky?! FRANK? oh and MY TRASHCAN! https://t.co/KjlYKY2UTA

— colinblu! (@televisionblue) 31 August 2017
Kendall is yet to respond to the controversy.
Meanwhile, the half-sister of Kim Kardashian has recently been faced with more cultural appropriation claims after dropping a new range of clothing.
Kendall, along with her sister Kylie, have been accused of appropriating 'Chola culture' and are being labelled as "culture vultures".
Back in June, the pair faced more drama following their superimposing their own faces over Tupac and Biggie on a range of 'vintage' tees.