Rihanna Fans Left Furious By J Balvin's "Sexist And Ignorant" Comments About Her
10 April 2018, 12:38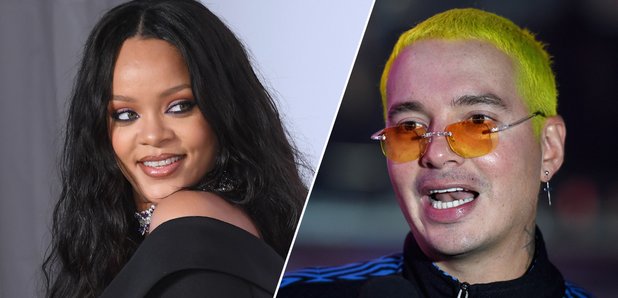 A spokesperson for the singer has defended his comments.
J Balvin is facing major backlash online following his latest comments about Rihanna.
During an interview with Portuguese YouTube vlogger SirKazzio, the Colombian reggaeton star took part in a round of the popular game 'F*ck, Marry, Kill'.
However, fans of the Barbadian singer were left reeling after Balvin suggesting that the 'Wild Thoughts' star wasn't made for marriage.
"Rihanna isn't a good woman to marry, just fool around," he said. Unsurprisingly, the Internet had some choice words for the 'Mi Gente' singer.
One user even pointed out that Balvin had previously replied to Rihanna on Instagram and extended a marriage offer her way.
J Balvin was in Rihanna comments begging her to marry him now she is not the marrying type lol pic.twitter.com/a6Wf3EqCpw

— KAY (@Ririweready) 9 April 2018
J Balvin is saying Rihanna is for sex & not for marriage, when he looks like a fucking toe and she makes more than he will ever see in a lifetime. He's not her equal in any way & yet still trying to enforce/assign old colonial stereotypes & positions.

— Nereyda (@TwittaHoney) 9 April 2018
jbalvin said 'rihanna isnt a good woman to marry, just fool around'. a trashy corny white latino man, the dudes who traditionally fuck black girls in secret while they keep they fugly white latina wife.

— killmangú (@bad_dominicana) 9 April 2018
men get so hurt when rihanna rejects them for collabs. I guarantee you that's what happened with j balvin because he was in her instagram comments proposing marriage and now he wants to act like he's too good for her. not in this lifetime or the next baby

— dani ♡ (@runwayrih) 9 April 2018
J balvin can take his white ass on some fuckin where. Rihanna ain't even thinking about you bitch she on another level. Subpar niggas always the loudest about women who would NEVER even think about touching them

— Krystal (@thekrissychula) 9 April 2018
About @JBALVIN saying that "@rihanna is not a good woman to marry, just to fool around." Oh man! She's not a woman to marry because there's no man on Earth that can be good enough for this goddess! Eat a dick, asshole!

— Giulia (@giuliasr) 9 April 2018
In response, a spokesperson for Balvin defended his comments.
"J Balvin has the utmost respect for Rihanna, which he has stated multiple times in interviews – repeatedly naming her as one of the artists he would most like to work with one day,"
"In this particular case, which is being taken out of context by some, a Brazilian video Blog interview requested he answer two rounds of Kiss, Marry, Kill.
"J Balvin lightheartedly choose his two recent 'Machika' collaborators Anitta and Jeon as his 'Marry' responses because he knows each of them well – leaving only the 'kiss' or 'kill responses remaining.
"He would no more wish to show any type of disrespect to Rihanna, as he would wish harm on the other names presented."
Rihanna is yet to respond to the incident.