Inside Rihanna's Fenty x Puma AW17 Fashion Show: Everything You Need To Know
7 March 2017, 11:04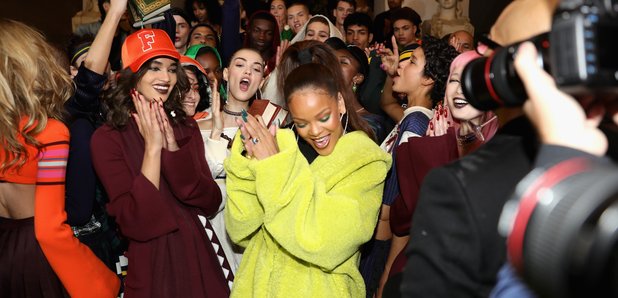 Preppy outfits, stunning models, and a huge green coat - it was epic.
Rihanna debuted her Fenty x Puma AW17 collection in Paris this week and she served up some serious looks.
The R&B songstress made her return to Paris Fashion week after her debut last season, with her new university-inspired collection aptly being named 'Fenty University'.
Fittingly, the preppy looks were displayed inside The National Library of France, where Ri's models strutted their stuff down catwalks fashioned out of study tables.
WHO told rihanna to snap on her collection like this pic.twitter.com/iQAgsR9AWp

— not pinkett smith (@Iilspice) March 6, 2017
ICYMI: @rihanna had her #FENTYxPUMA show; the theme was high school kids gone bad - French National Library had never seen anything like it. pic.twitter.com/bjFSmpKNwl

— Elizabeth Paton (@LizziePaton) March 6, 2017
Inside the @Rihanna #Fenty #PFW library show space, where study tables are the runways. pic.twitter.com/3OqZ9i3U2U

— @Booth (@Booth) March 6, 2017
Rihanna herself later took to the stage for a final bow, rocking an oversized lime green fluffy coat.
And of course, she looked incredible.
#Rihanna better slay that runway! #Fentyxpuma pic.twitter.com/NkKwXcaafh

— TheShadeRoom (@TheShadeRoom) March 6, 2017
Rihanna walks the runway at the #FentyxPuma fashion show #PFW pic.twitter.com/XHkYUOfmaF

— MEFeater Magazine (@mefeater) March 6, 2017
The show marks Rihanna's third collection with sports brand Puma.
The first had a darker, edgier vibe, whilst the second was inspired by 'Marie Antoinette at the gym'. Many describe her third collection as 'school kids gone bad'.
3 season. 3 different vibes. Same Queen. @rihanna #FENTYXPUMA pic.twitter.com/UEuiu1S9oS

— father (@FATHERFASHION) March 6, 2017
Famous attendees of the high-profile event included Ri's frequent collaborators Future, DJ Mustard and The Dream.
Also present at the show were model Cara Delevingne, actress Salma Hayek and musician brothers Joe and Nick Jonas.
Rihanna with @1future & @DJmustard at her #FENTYxPUMA fashion show. pic.twitter.com/6Rq7QkZo5g

— Rihanna News (@RihannaSpot) March 6, 2017
cara and rihanna are the cutest best friends pic.twitter.com/OKI5ko3h63

— ㅤpaige (@SHAKESlTOFFS) March 6, 2017
Rihanna's family could also be seen supporting from the front row, beaming with pride.
Familia de Rihanna en el desfile de #FENTYxPUMA | Rihanna's family at the #FENTYxPUMA fashion show. pic.twitter.com/mxLfBAoo9O

— Hechos Rihanna. (@RihannaDailySP_) March 6, 2017
The invites for the show were just as tongue-in-cheek as Ri's latest designs.
Sent in the form of detention cards, the singers fans were told the time, date and location details enabling them to watch a live stream of the show online.
And, of course, the soundtrack was just as attitude-driven as the clothing.
The show kicked off with an atmospheric cover of 'Creep' by Radiohead, before Die Antwoord tracks 'Happy Go Sucky F**ky' and 'I Fink You Freaky' hit the speakers.
M.I.A's 'Bad Girls' rounded off the show in typical sassy Ri style.
Before the show kicked off, Rihanna hit the catwalk in preparation for the big event, sharing a behind the scenes video with her 50.3 million Instagram followers.
Keep your eyes peeled for Ri's new collection to hit Puma stores later in the year.