Rihanna Shows Drake Love From The Audience At His 'Lil Wayne Vs Drake' Tour
21 August 2014, 10:05 | Updated: 21 August 2014, 10:24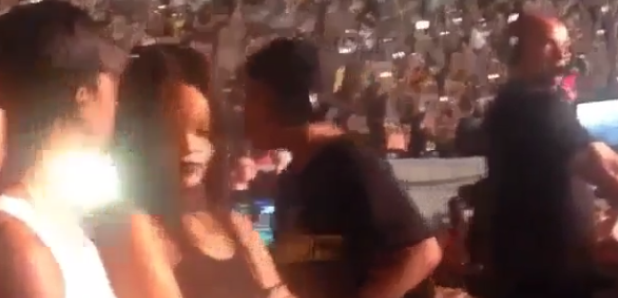 Does this mean they're on again?
Are they on again? Off again? On again? Who knows anymore. What we do know, is that Rih showed on-off boyfriend Drake love in the audience by attending the Queens, New York stop on his 'Lil' Wayne vs Drake' tour on Tuesday night (19th August).
Rih, who is currently in the middle of touring Eminem on 'The Monster Tour' was seen waving her hands in the air and dancing with her best friend Melissa Ford.
Drake was criticised earlier on his tour when Rihanna's face appeared on screen in-between the number 6, which flashed three times, with some claiming that Drake was implying Rihanna was the devil. He responded by saying Rih is a "great girl" and it's "all love."
(Warning: these videos contain strong language that some people may find offensive.)