Rihanna's Reaction To Losing Out At The Grammys Is Literally All Of Us
13 February 2017, 08:14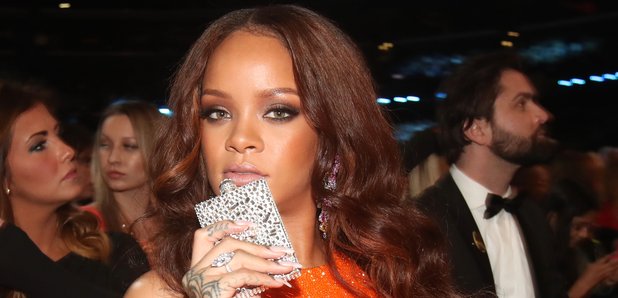 Iconic.
She may have missed out on all eight Grammy Awards she was nominated for, but Rihanna didn't seem to take the apparent snub to heart.
The 'ANTI' star rocked the red carpet in a stunning orange crop top and full-length black skirt before taking her seat at the ceremony.
Fans were disappointed after Ri didn't manage to pick up one of her awards, which included Record Of The Year and Best Urban Contemporary Album.
@RecordingAcad
Never you use a Rihanna gif
After you robbed her 8 times pic.twitter.com/3ZlbNeOWO0

— Rih's birthday soon (@CaribbeanBwoii_) February 13, 2017
Rihanna really got NOTHING and this was the best era of her career pic.twitter.com/cxytLQTjMd

— Janet // 27 (@musicheaux) February 13, 2017
ANTI has been criminally snubbed. The Grammys don't deserve Rihanna.

— Boo Radley (@ClauGasol) February 13, 2017
Can we talk about our other Queen Rihanna getting snubbed of ALL 8 nominations........... ridiculous

— Mason B (@MasonBmusic) February 13, 2017
I am hurting for Rihanna, she really deserved something for ANTi.

— Nini (@Noxy__T) February 13, 2017
But in true Rihanna style, the sassy star had her own way of dealing with the situation.
Supporting her during the night was a diamond encrusted hip flask, from which she took shots and sipped from during the ceremony.
Ri was serving up good vibes only as she blew kisses to Beyonce, danced and cheered during performances and even appeared to FaceTime Drake.
Attagirl #Rihanna....not preggers and stealing sips from her hip flask #GRAMMYs pic.twitter.com/uQ8psrYNEd

— Divya Hirani (@SoulofDivya) February 13, 2017
Rihanna front row at the Grammys with a diamond hip flask is everything pic.twitter.com/Chx55fVh7E

— Michelle (@Michelle26xxx) February 13, 2017
GHSHSHSDHSJSJ pic.twitter.com/Iz4fU60UvJ

— H. (@reblrihanna) February 13, 2017
Rihanna bought a hip flask to the #GRAMMYs i love her pic.twitter.com/YrZxTJqo8K

— Beyoncé (@bIackbilIgates) February 13, 2017
IM HERE FOR RIHANNA AND BEYONCÉ BLOWING KISSES AT EACH OTHER #Grammys pic.twitter.com/5q1N0vsSat

— Beyoncé Reactions (@ReactionBeyonce) February 13, 2017
#GRAMMYs pic.twitter.com/IST9noyEci

— Hans Fenty Nicki (@rihdelminaj) February 13, 2017
BITCH RIH ON FACETIME pic.twitter.com/rVH98FHr0C

— - Titi. (@GxdCxmplex) February 13, 2017
All hail Queen RiRi.