Rihanna 'Fenty Skin': Everything we know so far about the singer's skincare line
28 July 2020, 13:56 | Updated: 28 July 2020, 15:38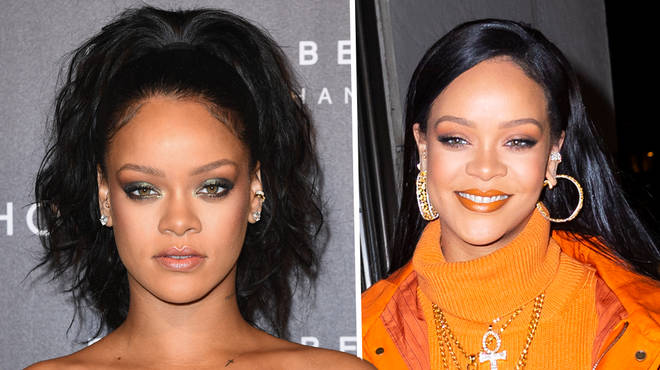 Fenty Skin founder Rihanna has revealed the first three products she will be launching for her skincare line.
Rihanna has already found success within her music career, her fashion brands and her make-up empire.
However, the 32-year-old star has pushed herself once again, announcing her new skin care beauty brand 'Fenty Skin' – which is a gender neutral skincare brand.
Find out more about 'Fenty Skin' below.
What is 'Fenty Skin'?

Rihanna, 32, announced her skincare company 'Fenty Skin' on Instagram, by sharing a bare-faced skincare routine promo video.

The singer is apparently aiming to become a 'beauty billionaire' with the potential success her skincare business may bring.

Rihanna announces the launch of 'Fenty Skin'.

Picture: Instagram

RiRi fans first got an incline of the skincare line when a trademark for Fenty Skin was filed with the United States Trademark And Patent Office, back in March 2019.

According to the trademark registration, the line is targeted at 'medicated and non-medicated skincare, soap, body care and personal care products and related accessories such as kits, tools and applicators.

Hip-hop stars Lil Nas X and Asap Rocky have starred in Rihanna's Fenty Skin campaigns.

Speaking on the launch of her gender neutral skincare brand, Rihanna said, 'I've been working on @fentyskin for over 2 years, perfecting formulas and creating packaging that is kind to our planet!!'

Rihanna also revealed the product is coral reef friendly, and revealing that the product packaging is recyclable.

"You just buy the outside packaging once, and from there you just keep refilling and you can recycle," she says in a YouTube video.

On Monday (Jul 27) Rihanna shared a promotional video for Fenty Skin, where the star details her skincare journey.

RiRi captioned the video "my skincare journey has been quite complex...some parts of my face are oily, some are dry, fatigue from travel, plus I have super sensitive skin, and chile now being in my 30s?!!"

The star continued "making @fentyskin was a challenge to cover all bases and thinking of the many skin types that are out there! But y'all know I love a good challenge 💪🏿🧖🏿‍♀️ ...check it out on youtube.com/fentyskin"

Watch below.

What products will 'Fenty Skin' offer?

The teasing promo video of Rihanna doing her skincare routine in the bathroom shows the star, with the first three products Fenty Skin is launching with.

The first Fenty Skin products to drop is scheduled for July 31 and will consist of a cleanser, toner, and and moisturizer.  

Underneath the comments to RiRi's post, a fan wrote "I hope this is great for sensitive skin! My skin is sensitive AF!"

Rihanna replied "Same! I get so scared to try new product! But I made this with love for my sensitive skin gang!"

The products all live in airless packaging which helps keep the ingredients from reacting to harmful substances in the air.

When can I buy 'Fenty Skin'?

In an Instagram post Rihanna uploaded on Tuesday (Jul 14), the beauty mogul added that 'Fenty Skin' will be landing on July 31.

Rihanna said the range will be "the new culture of skincare".

The range will be available to buy exclusively on fentyskin.com.

Rihanna squeezes a peachy substance before applying it to her face in 'Fenty Skin' promo video.

Picture: Instagram

If you can't wait to get your hands on it on the samples, you can join the waitlist to have early access on the Fenty Skin from 29 July here.

Rihanna's makeup range 'Fenty Beauty' sells at mid-range prices (£23 for foundation and £19 for concealer).

Therefore, there would be reason to think the skincare to be around the £20 - £30 mark, but there is no official pricing yet.

Where can I get 'Fenty Skin' in the UK?

There has not been official information released on where Rihanna's 'Fenty Skin' will be in store in the U.K.

However, it has been rumoured that the products will be available to ship worldwide on fentyskin.com.

Fenty Skin will be coming to Sephora in December