Everything We Know About Rihanna's Luxury Fashion Brand 'FEИTY'
20 May 2019, 14:36 | Updated: 20 May 2019, 15:01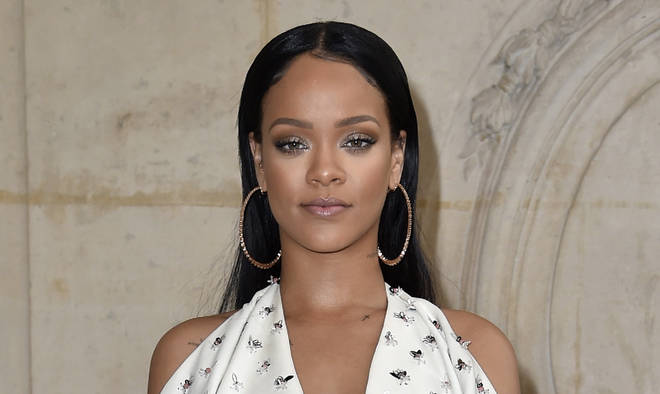 Rihanna is launching her new luxury fashion brand 'FEИTY' with LVMH, the world's largest luxury group.
LVMH has announced the upcoming launch of 'FEИTY', a new luxury Maison developed by Rihanna.
The R&B songstress teased the new fashion project today (10th May) by linking out to the mysterious 'fenty.com' website, and now LVHM have confirmed the collaboration themselves.
The company say Fenty has been "developed by her, and takes shape with her vision in terms of ready to wear, shoes and accessories, including commerciality and communication of the brand."
FEИTY will debut this Spring 2019, and the first collection under LVMH will be presented on May 22nd in Paris.
The 31-year-old has been working with the world's largest luxury fashion group, LVHM - who own the likes of Louis Vuitton, Celine, Christian Dior and Givenchy - on the secret luxury line for months.
On 20th May 2019, Rihanna gave fans a sneak peek of the collection on the first digital cover of the New York Times Style Magazine. Ri can be seen rocking a camel suit, a demin jacket and a pair of oversized gold sunglasses.
Rihanna has reportedly invested €29,988,000 in the new business, while LVHM have almost matched with €30 million, making Rihanna a 49.99 percent shareholder.
The 'Needed Me' hitmaker willl become the first woman to create an original brand at LVMH, and the first woman of color at the top of an LVMH maison. Her line will also be the first new house created by the group since Christian Lacroix in 1987.
Sign up for more details at www.fenty.com.
Earlier this year, Rihanna was spotted out wearing mysterious 'Fenty' items including sunglasses and accessories. 'FEИTY' adds to Rihanna's growing line non-musical endeavours, which include 'Savage X Fenty' lingerie and Fenty Beauty cosmetics.
"Designing a line like this with LVMH is an incredibly special moment for us. Mr. Arnault has given me a unique opportunity to develop a fashion house in the luxury sector, with no artistic limits," says Rihanna of the project.
"I couldn't imagine a better partner both creatively and business-wise, and I'm ready for the world to see what we have built together."