Fans Think Rihanna Photoshopped Her Crop Over Selfie After Spotting This In The Photo
10 August 2017, 10:21 | Updated: 10 August 2017, 10:28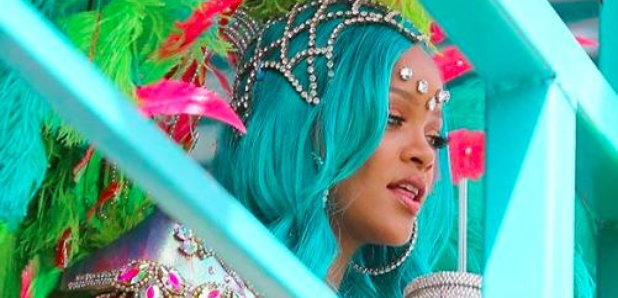 The curvy star and her bedazzled carnival costume left the Internet fully shook this week.
It's been two days since Rihanna took social media by storm after posting her eye-popping selfies from Crop Over carnival online.
The curvaceous star donned an opulent bedazzled two-piece adorned with jewels and a pair of colourful feathered wings to celebrate the end of the sugar cane harvest in her native Barbados.
But following the initial buzz surrounding the photos, it seems some eagle-eyed fans have spotted something which has prompted speculation that the 29-year-old Photoshopped one of the snaps.
After close inspection on RiRi's unmissable turquoise manicure, fans noticed what appears to be an extra nail poking out from under her thumb on her right hand.
The apparent glitch caused many fans to think that the star had edited the image in attempt to smooth her skin, or perhaps alter the shape of her body.
"Photoshop look at her thumb she has 2 nails" wrote one fan.
Anybody else notice Rihanna's growing a nail outta her thumb? Just me? #Rihanna #ChrisBrown #photoshopfail pic.twitter.com/fcPNBty3Fk

— Natalya Grabavoy (@NatalyaGrabavoy) August 9, 2017
However, many fans were quick to provide a simple explanation behind the alleged edit - the blue 'nail' is actually a string dangling from her bracelets, which held jewels between her fingers.

Problem solved!
This isn't the first topic of controversy surrounding the stunning selfie - RiRi's ex-boyfriend Chris Brown got tongues wagging after he responded to the snap with a pair of side-eye emojis.
Rihanna is yet to respond to the Photoshop rumours.
Meanwhile, the 'Wild Thought's songstress recently responded to Diplo after telling him that his music sounded like reggae music played at an airport.