Rihanna Fans Are Losing Their Minds Over Her Appearance In The 'Ocean's 8' Trailer
20 December 2017, 14:24 | Updated: 20 December 2017, 14:53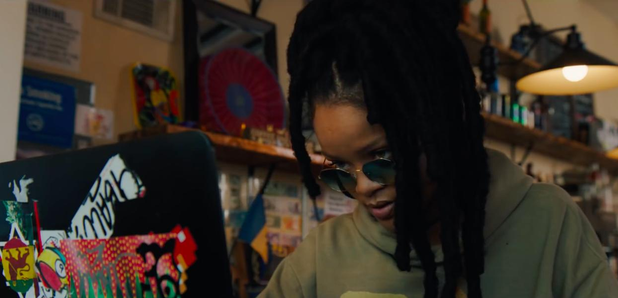 Because we all know she's going to be the best part of this movie.
The first trailer for the upcoming all-female 'Ocean's 8' movie is here and all eyes are on a certain leading lady.
Ever since it was announced that Rihanna would play a starring role in the motion picture - a bad-ass hacker named 'Nine Ball' - fans have been eagerly awaiting the movie's release.
With photographers snapping her every move on set during filming, we already had some idea of what Rihanna's character would look like.
But after the official trailer debuted online, fans soon flocked to social media to praise the Bajan singer for her acting chops and shared their excitement for the full film.
Here are some of the best reactions from the Navy so far.
people say oceans 8 will flop? the sheer power of rihanna fans is enough to make that film a box office success. add paulson/blanchett stans, lesbians, moms who love sandra bullock, mindy's crowd to that, and you got yourself millions.

— dilara (@marioncotilards) 19 December 2017
Whenever 'Oceans 8' comes out I expect every scene with Rihanna to be gif'd....EVERY SCENE! pic.twitter.com/yj0SvBCVsz

— ThisIsWhyImScott™ (@FueledByScottK) 19 December 2017
Rihanna is serving in the new oceans 8 trailer pic.twitter.com/ODbSDuBzph

— m a t t (@witnessmatt) 19 December 2017
we're really gonna get 2 hours of rihanna serving endless looks in her dreads and showing off her acting chops and being the best and funniest character in the entire movie when oceans 8 comes out pic.twitter.com/Wuds7RDahc

— april (@fentysgrahams) 19 December 2017
the only good character in oceans 8 is rihanna i could care less about sandy bull and crepe blanchette

— fenty x akhil (@akhlvdya) 19 December 2017
I keep rewatching the Oceans 8 trailer and honestly between "bitch better have my money" and this i think if Rihanna robbed me I'd like it it very much (????)

— Kirsten King (@KirstenKing_) 20 December 2017
I saw that one flash of Rihanna in Oceans 8 and the waterfalls proceeded . She's just THAT powerful. pic.twitter.com/EFEPJMs6sH

— HOE HOE HOE (LAYA) (@ZENDAYAFANARMY) 18 December 2017
The Oceans 8 trailer looks weak but Rihanna basically controls my life, so guess who'll be there opening day?

— Shane Ravello (@ShaneRavello) 19 December 2017
OCEANS 8 IS COMING I get to see Rihanna and Zayn in the same movie all nuts will be busted my body will be completely drained of all fluid and I'll die but with a smile on my face

— ash (@esnytrash) 19 December 2017
I hope Oceans 8 steals all the awards. We're here for Rihanna coming to dominate the acting world. She was good in Valerian, and even in Battleship- even with bad directing.

— Whitney (@blackgirlicon) 16 December 2017
Check out the full trailer for 'Ocean's 8' below.