Rihanna Fan Handed Mic At 'ANTI' Concert, Basically Out-Sings Rihanna
21 March 2016, 10:15 | Updated: 21 March 2016, 11:05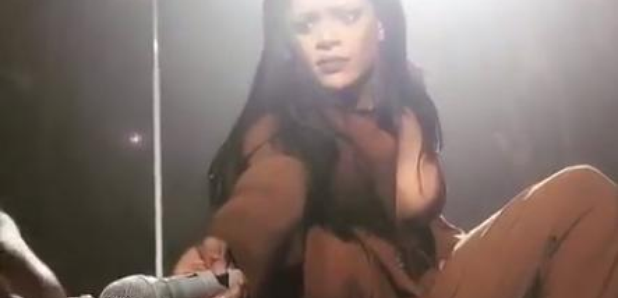 Rihanna's reaction is everything.
Rihanna had a huge shock this week when she handed a fan who was front-row at her 'ANTI World Tour' concert the mic, inviting him to sing along to 'Four Five Seconds.'
No one was expecting what happened next, as the fan - whose name is Terah Jay - completely slayed, even shocking Rih herself.
Watch what happened:
Rihanna had to take the mic back before he took her job from her!

Posted by The Wall of Comedy on Sunday, March 20, 2016
Did you even see Rihanna's face?
Rihanna's face when @TerahJay hit AWL the notes pic.twitter.com/lBRxysJPE5

— No stress Naya (@anaya_papaya) March 20, 2016
Terah has since taken to Twitter to thank everyone for their kind words.
Thanks for all of the kind words, follows, and shares! I am so humbled at this moment. My cup is full #ThankYou

— Teej (@TerahJay) March 20, 2016
This has been a whirlwind 24 hours. I am already satisfied. I am already thankful anything that comes from this .

— Teej (@TerahJay) March 21, 2016
I will say a small part of me is #WaitingonEllen... lol

— Teej (@TerahJay) March 21, 2016
See some more footage of Terah owning the 'ANTI World Tour' below:
Thank you so much! RT @skbett: @TerahJay You were awesome!!! pic.twitter.com/1lmGH6B2WR

— Teej (@TerahJay) March 21, 2016
Last week Rihanna surprised fans at her concert by bringing Drake out for a very intimate performance of 'Work,' the two then set aside some time to visit Megan, a young fan who is suffering from cancer, thanks to the Make-A-Wish Foundation.