The Broken Phone Rihanna Signed Is Currently Going For Over $58,000 On eBay
15 May 2014, 09:33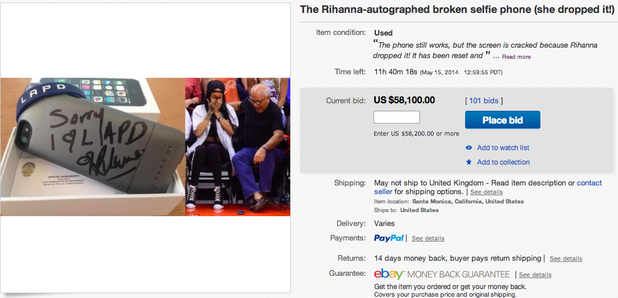 Remember seeing that photo of Rihanna dropping and smashing a phone? This is what's happened next.
The phone that Rihanna dropped, smashed and then signed during a basketball game earlier in the week is being auctioned off on eBay at a current price of over $58,000.
Photos broke earlier in the week of the moment a stunned Rih dropped the LAPD chief's phone, with him posting a picture of the cracked phone with Rihanna signature on not long after.
Sorry I broke your phone @SteveSoboroff :) @takepartlive 10PM ET on @pivot_tv @LAPoliceFdtn #specialannouncement #tonight

— Rihanna (@rihanna) May 13, 2014
The two both took to Twitter to announce that the phone was going to be auctioned off to raise money for both the Los Angeles Police Memorial Foundation and the LAPD Cadet program crisis.
Watch @takepartlive @pivot_tv 10pET. News re: @rihanna selfie phone 4 @LAPoliceFdtn. Bid now: http://t.co/ShUgpNXm6F pic.twitter.com/Wilw2TbIDf

— Steve Soboroff (@SteveSoboroff) May 13, 2014
Steve Sobroff wrote on the listing on eBay; "Thank you Rihanna and all of her wonderful fans who have made this story go viral, and for your interest in supporting the Los Angeles Police Foundation."
There has so far been 101 bids on the cracked phone, with 11 hours to go until the auction closes, the winning bid currently stands at $58,100 (at 9.30am 15th May.)