Rihanna Rocked Up At An Arsenal Game & Became A Certified Gooner
5 February 2018, 11:41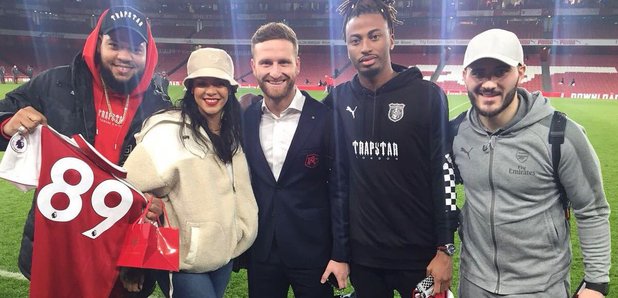 The star has been hailed as their 'lucky charm'.
Rihanna gave Arsenal fans a treat this weekend after she attended their match against Everton at London's Emirates Stadium on Saturday.
The 'Wild Thoughts' songstress rocked up with her brother Rorrey to watch the game, which resulted in a victorious 5-1 result for the Gunners.
Ri was also treated to a tour of the stadium and met up with some of Arsenal's star players after the match including Mesut Özil, who hailed her as their 'lucky charm'.
Rihanna attended the Arsenal v Everton match at London's Emirates Stadium this Saturday. pic.twitter.com/0AUt8Ekya2

— RihannaDaily.com (@RihannaDaily) 4 February 2018
Still unbeaten with Riri @rihanna #WorldCupFinal2014 #AFC #Emirates #luckycharm @Arsenal @DFB_Team pic.twitter.com/kJT12cpevz

— Mesut Özil (@MesutOzil1088) 3 February 2018
Video: Singer Rihanna and her brother Rorrey in attendance for Arsenal's 5-1 win over Everton at the Emirates. [@URihannaSite] #afc pic.twitter.com/ovo5026bET

— afcstuff (@afcstuff) 3 February 2018
According to football correspondent James Olley, the Bajan beauty was said to be "causing a bit of a stir in the tunnel area" and spent time in the players' lounge near the dressing rooms.
The star also posed alongside left-back Sead Kolašinac and centre-back Shkodran Mustafi, who both thanked Rihanna for her support.
Great team effort and important win.Thanks for your support @rihanna! #AFCvEFC @Arsenal #Rihanna #SeoKol pic.twitter.com/XIxvMkTYUR

— Sead Kolašinac (@seadk6) 3 February 2018
The result we needed today! Thanks for crossing your fingers @rihanna that has always turned out really well... #Brazil2014 #workworkwork #sm20 @arsenal pic.twitter.com/EnOTEs2BhT

— Shkodran Mustafi (@MustafiOfficial) 3 February 2018
After a video clip of the singer holding up her own Arsenal shirt and proclaiming "I'm a Gooner!" went viral online, fans couldn't believe what they were witnessing.
Rihanna is a Gooner (Arsenal fan)pic.twitter.com/KCkVJ1lyJD

— Yübbîę Umoh (@Yubbie007) 4 February 2018
Rihanna is apparently at the Arsenal game today pic.twitter.com/K8aywh8e3p

— King Wilshere (@YoungeArsenal) 3 February 2018
This is why her and Drake could never last. Rihanna only links Arsenal. That nigga Drake got a woolly hat for every top 5 team.

— (@marcazette) 4 February 2018
Rihanna is a Gunner? I knew I had a reason I loved this woman #Arsenal pic.twitter.com/P9DTlNCHpl

— (@flyestEinstein) 4 February 2018
Rihanna needs to upload a video twerking in an Arsenal top. I'm not saying I'll watch it. I'm just writing this tweet.

— (@marcazette) 4 February 2018
Can rihanna attend every @Arsenal match, it seems all the lads were trying really hard to impress her, sign da ting Riri

— Ekomobong Akwaowo (@emperor920) 5 February 2018
When @rihanna got taste #arsenal pic.twitter.com/pk33OFSutD

— Cheriè Amore (@1mysteryshopa) 4 February 2018
Meanwhile, Rihanna was recent at the centre of controversy after allegedly not being allowed into the country of Senegal over her rumoured connection with the Illuminati.
The R&B singer, who is an ambassador for the Global Partnership for Education, recently tweeted Theresa May asking her to prioritise education for young girls.