Rihanna's Producers Reveal She Has 500 Songs To Choose From For New Dancehall Album
19 July 2018, 20:47 | Updated: 19 July 2018, 20:48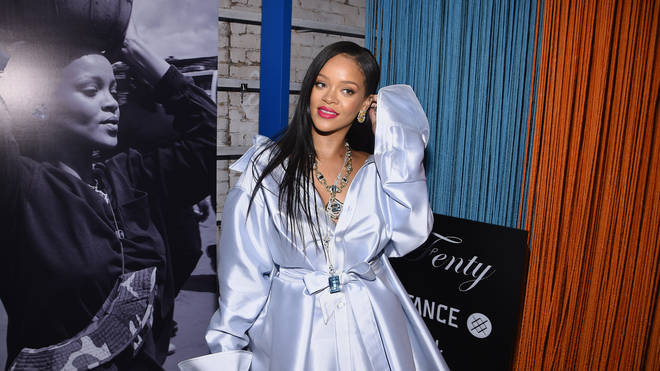 Rihanna's new album is on the way!
Rihanna's Jamaican producers have revealed that the 'Work' singer has over 500 songs to choose from for her highly-anticipated new Dancehall album.
The Fenty Beauty star, who has recently been very quiet about her music career, appears to have been busy recording lots of new songs in secret for her 'Anti' follow-up.
Sources have confirmed to Rolling Stone that the singer is currently working on two new projects, a dancehall/reggae album and a pop album.
The Caribbean-themed album is claimed to boast collaborations with some of the biggest singers and producers in the culture, including R. City (Rihanna, Beyoncé), Stephen "Di Genius" McGregor (Vybz Kartel, Sean Paul), Linton "TJ Records" White (Serani, Vybz Kartel), Kranium, Chronixx, and more, all working on the album.
Another producer also claimed that Skrillex and Drake producer Boi-1da have also been working on new material for RiRi.
"[Rihanna's team] have, no lie, 500 records for this project [from] different producers and writers," said one producer.
"They're only choosing 10 records. They've been having writing camps and trying to keep them quiet for almost a year and a half now. I've been flying to Miami, flying to L.A., cutting records nonstop for this project."
Interestingly, a producer who has "done quite a lot of stuff" for the album, claims that big record labels have already been contacting him about new Rihanna music.
"They're ]asking if I had any songs that [Rihanna] didn't take. People are already gearing up to go in that direction [towards dancehall] because somebody as big as her is doing that.
"If an artist like Rihanna comes out and does [an album influenced by Jamaican pop], that's definitely going to shift the needle."
Rihanna is yet to comment on the new reports about her album.
However she has previously confirmed that she is working on a new album and previously revealed in an interview with Vogue that her next album will be influenced by Reggae and artists like Bob Marley.