Rihanna Reveals New Single 'B*tch Better Have My Money'
26 March 2015, 10:13 | Updated: 26 March 2015, 10:45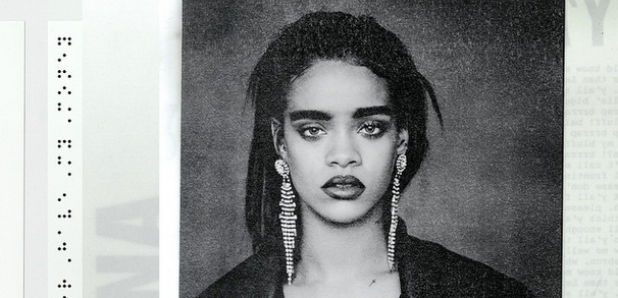 Hear the next single 'BBHMM' from Rihanna's 'R8' album.
Rihanna has unveiled details around her new single, titled 'B*tch Better Have My Money.'
The 'FourFiveSeconds' singer took to Twitter to share the black and white cover art for the track, which she's calling 'BBHMM' for short. Snippets of the single is available to listen to via the Dubsmash app, an app that allows you to video yourself lip-syncing to tracks.
Head to Dubsmash for my new single #BBHMM!! http://t.co/epMtBf34Rh

— Rihanna (@rihanna) March 26, 2015
So far, only two clips from the track are available to listen once you have downloaded the app - both the intro and the outro, which you can hear below. The full track is expected to drop later today.
LISTEN to an exclusive clip of @rihanna's "Bitch Better Have My Money!" pic.twitter.com/66hGLsMmUF #BBHMM

— BreatheHeavy.com (@breatheheavycom) March 26, 2015
Here's another clip. It's the outro! #BBHMM pic.twitter.com/yJfR0bvLVQ

— BreatheHeavy.com (@breatheheavycom) March 26, 2015
The songs follows the release of two tracks 'Dancing In The Dark' and 'As Real As You And Me,' Rihanna recorded for the animated film 'HOME' sountrack, which she also voices a character in.
Rih recently revealed details on her new album, dubbed 'R8' by her fans, in an interview with MTV. Whilst considering the huge success of her previous singles, she added that her main aim for the next album is to make a record that's "timeless."