Rihanna's Faux Locs Were Played With And Twitter's Reaction Was Truly Hilarious
6 December 2016, 11:08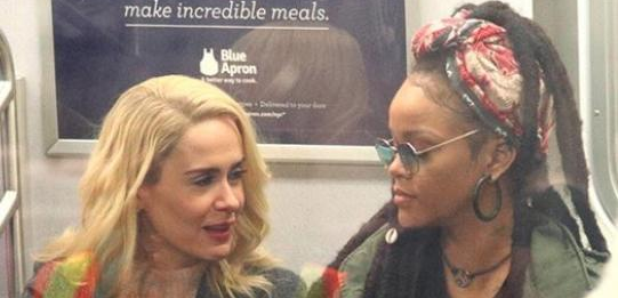 #DontTouchMyHair
Rihanna's faux locs were played with on the set of Ocean's 8, and her reaction sent Twitter users into meltdown.
The viral photos show RiRi's iconic dreads being touched by co-star Sarah Paulson on the NY subway.
sarah paulson, rihanna, anne hathaway, and sandra bullock all in one movie... this is too much for me pic.twitter.com/4uCdU82jnQ

— FREDDY (@FreddyAmazin) December 5, 2016
And it's safe to say Rihanna's deadpan facial expression makes her appear less than impressed.
But whilst we don't know what was said during the pair's exchange, these Twitter users came up with some hilarious suggestions:
"Soooo how long does it take to do all these twisties?" pic.twitter.com/LSMPYuZugu

— RN (@DopeEthiopian) December 4, 2016
Rihanna is trying her hardest to not slap Sarah for touching her hair. pic.twitter.com/ZQTdEckPXe

— Jon Wells (@jonwells123) December 4, 2016
*cries in Solange* pic.twitter.com/MROvq9hppv

— SHN (@brownlashon) December 4, 2016
Rihanna dead wants to deck Sarah Paulson for touching her hair pic.twitter.com/ANxpemUHd8

— Arielyss Santiago (@arielysshhhhh) December 6, 2016
"I just think that all lives matter and it's not a race thing. Btw love the corn roads" pic.twitter.com/yxxh4YJlJ0

— kyylar (@kurlykyyla) December 5, 2016
don't touch my hair (feat. Rihanna).mp3 pic.twitter.com/BFc6E5VCTU

— ALEXIS (@RainbowDisgrace) December 4, 2016
"So tell me girl...where can I purchase this weave" pic.twitter.com/FNytNO5NNl

— Caleon Fox (@supportcaleon) December 4, 2016
just a little something to take the edge off pic.twitter.com/vlBRb4qDDz

— brother nature (@chicoenfuegoo) December 4, 2016
"I saw so many people with these cornrows during my trip to the Bahamas it's so exotic." pic.twitter.com/fE6tbvUUPV

— han (@hanxine) December 4, 2016
It is currently unknown as to whether these snaps were taken during filming or whilst the actresses were on a break.
Meanwhile, it was recently rumoured that Rihanna had befriended a homeless woman and gave her free Puma Creepers while filming Ocean's 8.
However the woman in question, later revealed herself to be the owner of a building in front of where they were shooting.