Has Rick Ross Dissed Drake On New Song 'Color Money'?
3 December 2015, 10:10 | Updated: 4 December 2015, 20:14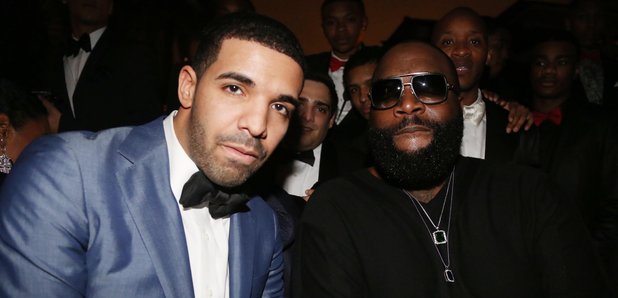 Rozay has spoken out.
Rick Ross has remained very neutral throughout the feud between Drake and Meek Mill, claiming that "nobody got bodied" in the rap battle.
However the MMG boss appears to have weighed in on the situation on his new song 'Color Money'.
Listen to the song below:
"My lil homie made a million on his girl tour / We back to back and down to whack a n**a unborn / Miami n**as got them changing all the gun laws/
"So run Forrest got some shooters and they dying too / I got more money than that p***y that you're signed to," Rozay raps.
While its not clear whether his lyrics were direct shots at Drake, many listeners have given their opinion, including Toronto City Councillor Norm Kelly.
The fakest boss that you seen thus far End the rap career & just stick to Wing Stop Another break from views will give yo camp a big loss

— Norm Kelly (@norm) December 2, 2015
Rick Ross must wanna retire early now that he sent shots out to Drake and Lil Wayne in his new song

— #TedLassoIN (@notRonaIdo) December 2, 2015
When Rick Ross said "my lil homie made a million on his girl's tour" like Drake doesn't make that per performance pic.twitter.com/ByRzgD87Wx

— victoria (@CountOnVic) December 2, 2015
Rick Ross Out Here Dissing Drake Like Drake Hasn't Carried His Top Charting Songs

— Ω̴̩̩̩̥VΩ̴̩̩̩̥Nick (@NickFolarin) December 2, 2015
Don't hype that #RickRoss drake diss. His most viewed song via YouTube is Aston Martin Music Ft DRAKE. Haha automatic L

— Markicks (@Marco_Poloo23) December 2, 2015
Meanwhile Rick Ross recently released a new mixtape called 'Renzel Remixes', which is the prequel to his upcoming album 'Black Market'.
The LP is out now.