The Game Unveils New Song 'Don't Shoot' Feat. Rick Ross, 2 Chainz, DJ Khaled And More
28 August 2014, 09:46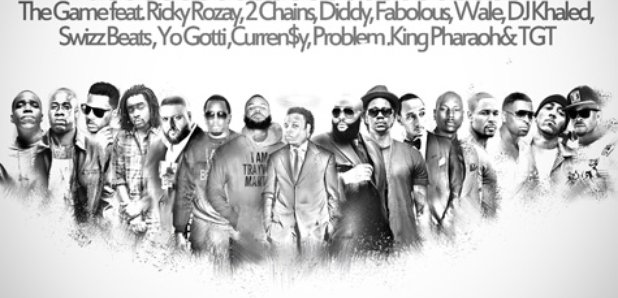 An all-star hip-hop line-up including Swizz Beatz, 2 Chainz, Diddy and more come together for this new track.
The Game has rounded up his friends in the hip-hop community to make new song dedicated to Mike Brown 'Don't Shoot.'
Diddy, Rick Ross, 2 Chainz, Wale, DJ Khaled, Swizz Beatz and more all got involved in the track that references the trouble Ferguson is currently facing.
Listen to The Game Feat. Rick Ross, 2 Chainz, Diddy, Fabolous, Wale, DJ Khaled, Swizz Beatz, Yo Gotti, Currensy, Problem, King Pharaoh & TGT - 'Don't Shoot' below:
(Warning: This song contains strong language that some people may find offensive).
"God ain't put us on the earth to get murdered, it's murder" the anthemic song's chorus repeats.
"I managed to get everyone on fairly easy, simply because we have hearts" Game said of the coming together of the single. "We care and are inclined to take a positive approach to resolving an issue that has existed since the beginning of mankind and that's racism and hatred towards one another as human beings."
The song is available to download of iTunes now, with all profits going to the Justice For Mike Brown charity.