Rick Ross Reveals New Nas Collaboration 'One Of Us'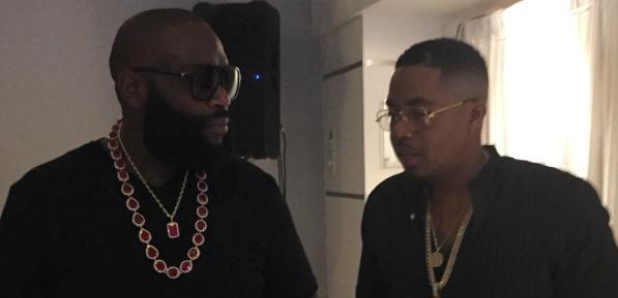 Ross and Nas get introspective.
Rick Ross has unveiled a new song from his upcoming album featuring Nas called 'One Of Us'.
Following the release of his new 'Sorry' video featuring Chris Brown, Rozay has linked up with Nas on a triumphant anthem.
Listen below:
"You getting money, got a b***h, then you one of us," raps Nas.
Meanwhile Rick Ross has also released the tracklist for his new album 'Black Market'.
In addition to his single with Breezy, the album features a star-studded list of guest appearances including Future, John Legend, CeeLo Green, Mariah Carey and more.
"It's like a one-on-one conversation, and I'm being straight direct," Ross told Maxim about 'Black Market'.
"With the music I'm making and the conversation, the flows, I'm really setting this album to be possibly the pinnacle album of my career."
Watch the trailer below:

Check out the tracklisting below:
1. "Free Enterprise" feat. John Legend
2. "Smile Mama, Smile" feat. CeeLo Green
3. "One of Us" feat. Nas
4. "Silk Road"
5. "Color Money"
6. "Dope Dick"
7. "Crocodile Python"
8. "Ghostwriter"
9. "Black Opium" feat. DJ Premier
10. "Can't Say No" feat. Mariah Carey
11. "Peace Sign"
12. "Very Best" feat. Mary J. Blige
13. "Sorry" feat. Chris Brown
14. "D.O.P.E." feat. Future
15. "Foreclosures"
16. "Money Dance" feat. The-Dream
17. "Carol City"
'Black Market' is set for release on 4th December.