R Kelly Rubs Fans Phone On Crotch During First Show Since Sex Cult Claims
31 July 2017, 15:01
The video surfaces just hours after Vic Mensah said R Kelly "needs to be locked away forever."
A video of R Kelly rubbing a fans phone on his crotch during a concert has surfaced online.
The incident took place in Virginia Beach on Friday night (28th July) during Kelly's first live show since allegations broke that he is holding a number of women in a "sex cult".
During the show, R Kelly began serenading fans in the front row with his 1998 hit 'Half on a Baby', encouraging one fan to touch him as he crouched down onstage.
The R&B singer then took another fans phone and sang directly into the camera before rubbing it over his crotch and handing it back.
Watch the footage above.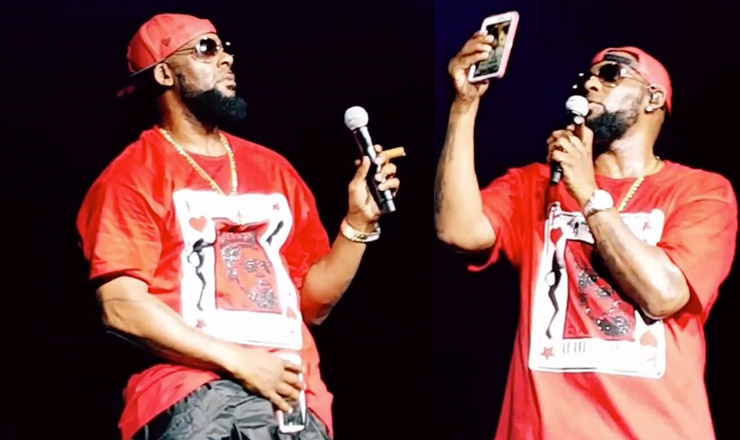 In the Buzzfeed News report, it was claimed that several parents said R. Kelly is holding their daughters against their will.
R. Kelly has not yet been charged with any crime relating to the above allegations, with his legal attorney claiming he is "is both alarmed and disturbed at the recent revelations attributed to him".
In addition, Kelly "unequivocally denies such allegations and will work diligently and forcibly to pursue his accusers and clear his name."
Meanwhile, fellow Chicago native Vic Mensah recently described R Kelly as "scumbag and a very dirty man."
"F**k R. Kelly," said the Roc Nation rapper to TMZ. "He needs to be locked up forever."