Robin Thicke And Pharrell Williams Lose 'Blurred Lines' Copyright Case
11 March 2015, 11:05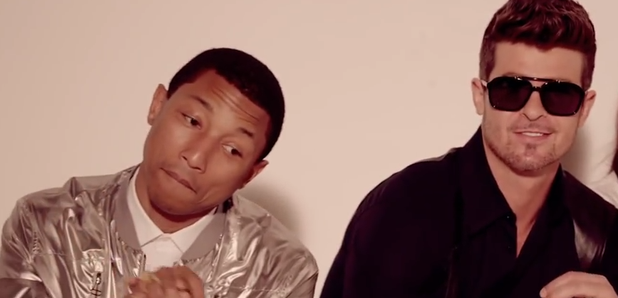 And it's A LOT of money they've got to fork over.
It's been going on for a while, but the 'Blurred Lines' court case was finally closed yesterday. The verdict? Pharrell and Robin Thicke lost and must pay $7.4 million.
The track is accused of copying Marvin Gaye's 'Got To Give It Up'. After a two week trial the jury found in favour of the Gaye family and Pharrell and Robin Thicke must now pay up. T.I, who also featured on Blurred Lines, was cleared of any wrongdoing.
Thicke, Pharrell and T.I made the following statement. "While we respect the judicial process, we are extremely disappointed in the ruling made today, which sets a horrible precedent for music and creativity going forward. 'Blurred Lines' was created from the heart and minds of Pharrell, Robin, and T.I. and not taken from anyone or anywhere else. We are reviewing the decision, considering our options and you will hear more from us soon about this matter."
You can listen to the two tracks below to judge for yourself.
Robin Thicke Feat. Pharrell & T.I - Blurred Lines
Marvin Gaye - Got To Give It Up