Pharrell Performs 'Happy' And 'Marilyn Monroe,' Reveals What Makes Him Happy
8 April 2014, 10:52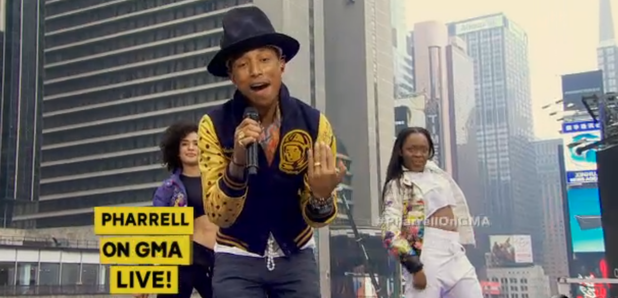 See the full performances and interview from Pharrell's time on Good Morning America.
Just days after celebrating his 41st birthday by performing on Saturday Night Live, Pharrell took to the stage on US TV show 'Good Morning America' to perform 'Happy,' and also the next release off of the new G I R L album 'Marilyn Monroe.'
Watch Pharrell perform 'Marilyn Monroe':
In an interview following the energetic performances Pharrell spoke about the process that went into making the Despicable Me 2 hit song, revealing that he made nine versions of the song before landing, and being happy with, the tenth.
Watch Pharrell's interview:
"It was actually nine versions before I got to the tenth," he said. "That's when I had to ask myself, one more time, for the last time, I got to point zero, and I just said to myself, 'How do you make a song about a guy who is so happy and relentless in doing so?' That's when I realised that the answer had been sleeping in the question all along."
Skateboard P also spoke about he decision to make an album based solely on females, plus he reveals there are three things that make him happy, the first "family and friends" and the second "doing what I love to do everyday so it feels like I get paid for nothing."
Watch Pharrell perform 'Happy' in Times Square: