Pharrell's New Album G I R L Tracklisting Features Justin Timberlake And Daft Punk
21 February 2014, 14:22 | Updated: 21 February 2014, 14:51
The singer of Happy will drop the album in just two weeks time.
Update
Just days after releasing the artwork for his forthcoming second solo album G I R L, the tracklisting for the highly anticipated album has been unveiled.
At 11 tracks long, Pharrell has unsurprising enlisting a stellar line-up of artist to support the album, with past Get Lucky collaborators Daft Punk featuring on a track entitled Gust Of Wind, Justin Timberlake jumping on track two Brand New and Alicia Keys bringing her talent to I Know Who You Are.
In a recent interview with Time Out Magazine the 'Happy' singer revealed his decision behind the album's title and theme. He said: "There's going to be a huge shift, a huge shift. There will be a time when women get paid as much as men. There 
will be a time when, like, 75 percent of our world leaders will be women. All the presidents and prime ministers. There will come a time. And I'm going to be on the right side of that shift when it happens."
See the full tracklisting for 'G I R L,' released 3rd March, below:
1. 'Marilyn Monroe'
2. 'Brand New' featuring Justin Timberlake
3. 'Hunter'
4. 'Gush'
5. 'Happy'
6. 'Come Get It Babe' featuring Miley Cyrus
7. 'Gust Of Wind' featuring Daft Punk
8. 'Lost Queen'

9. 'Freq'
10. 'I Know Who You Are' featuring Alicia Keys

11. 'It Girl'
19th February 2014
Just hours ahead of his performance at the BRIT Awards tonight (19th February), Pharrell Williams has announced details of his new album G I R L.
The producer and singer's new album will be released on 3rd March and while further details about the album have yet to be announced, Pharrell has dropped a video teaser which shows him recording songs from the record with an orchestra.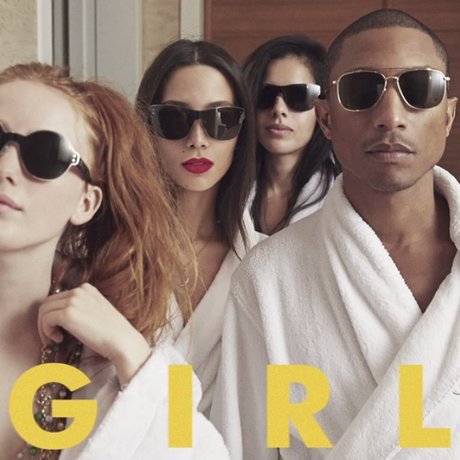 G I R L arrives fresh off the back of the phenomenal success of Pharrell's recent single Happy and follows his production work on some of 2013's biggest songs, including Robin Thicke's Blurred Lines and Get Lucky by Daft Punk.
It is also only the star's second solo studio album following 2006's In My Mind.