Pharrell, Alicia Keys And Kendrick Lamar Unveil 'It's On Again': New Music
31 March 2014, 16:43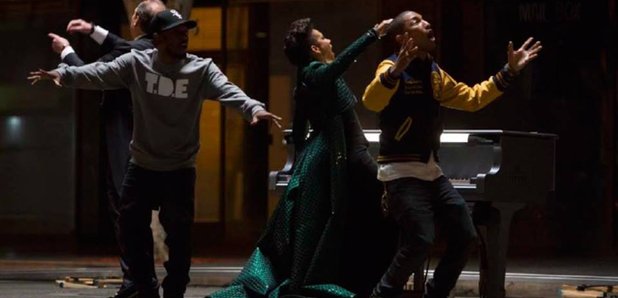 Listen to the Pharrell-produced track off the upcoming 'Spiderman 2 Soundtrack'.
Update
Alicia Keys and Kendrick Lamar have finally premiered their Pharrell-produced track 'It's On Again,' set to appear on The Amazing Spider-man 2 Soundtrack, which comes out 22nd April.
Listen to 'It's On Again' below:
The three were pictured filming the video for the new track which is due to be released son. Stay tuned.
24/03/14
It was recently announced that Pharrell Williams, Alicia Keys and Kendrick Lamar would be teaming up on a new track entitled 'It's On Again' for the 'Spiderman 2' soundtrack for the forthcoming film of the same name.
Now, a 30-second snippet of the new track has arrived
Listen to a preview of 'It's On Again':
The song, written by Hans Zimmer, is primarily performed by Alicia Keys, with Kendrick Lamar taking on a featured role (we're yet to hear his verse) and Pharrell producing.
"I'm very excited to be a part of such a powerful collaboration with Kendrick Lamar, Pharrell Williams and Hans Zimmer," Alicia said. "This is the next chapter in the 'Spider-Man' legacy and we really feel 'It's On Again' captures the experience, the story - and most importantly - the meaning behind the film, which is that we all have the potential to be extraordinary. There's a little bit of a super hero in all of us."