PartyNextDoor Is Facing Backlash For This Since-Deleted Tweet About Jews
28 July 2017, 11:06 | Updated: 28 July 2017, 11:15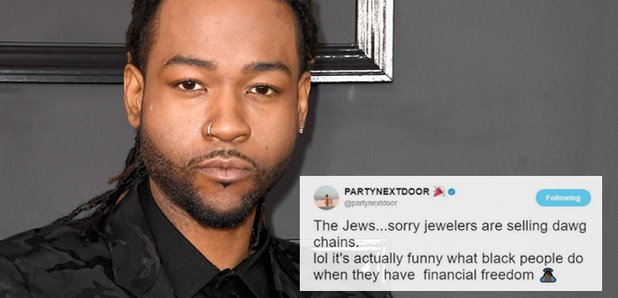 The R&B hitmaker made some controversial comments about Jewish people selling chains.
PartyNextDoor has found himself in deep water after making a comment about Jews selling jewellery.
In the since-deleted tweet, the 'Come And See Me' singer appeared to refer to Jewish people as jewellers that sell chains to the black community.
"The Jews…sorry the jewelers are selling dawg chains," wrote PND. "lol it's actually funny what black people do when they have financial freedom."

Party's tweet was seen by many social media users as anti-semitic, prompting fans of the 'Wild Thoughts' songwriter to delete the controversial comment from his page.
In response, the tweet was taken down swiftly by PND, but was soon followed by another.
The singer didn't mention his previous controversial tweet, admitting he "just loves to troll" before pondering whether to "tweet and delete life forever".
No lol I just love to troll. Tweet and delete life forever.

— PARTYNEXTDOOR (@partynextdoor) July 27, 2017
Despite deleting the tweet, Party has since faced some serious backlash for his comments.
Internet users took to Twitter to express their distain for the singer's controversial tweet, with some even pointing out the fact that his OVO signer Drake is Jewish.
Gold is actually a great investment, not jewelry. Should of just said that. Who owns it has no relevance. @partynextdoor pic.twitter.com/2GppeipCOZ

— @Artise1 (@Artise1) July 27, 2017
Ain't your boss Jewish? @partynextdoor https://t.co/OXujsagqw2

— eric zaworski (@ericzawo) July 27, 2017
Party is yet to address his previous comments directly.
Meanwhile, R&B singer is currently working on his upcoming third studio album, following the success of 2016's 'PartyNextDoor 3'.