Nicki Minaj Sparks Controversy Over Deleted 'White Rappers' Instagram Post
18 December 2017, 10:24 | Updated: 18 December 2017, 10:33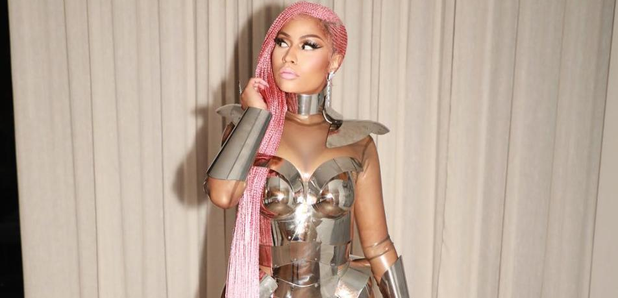 Nicki kicked off a huge debate.
Nicki Minaj has sparked huge controversy after a now-deleted post about white rappers went viral.
The 'Anaconda' rapper, who is currently working on her new album, took to Instagram to post a breakdown of the current top 10 rap songs on US iTunes.
"It's a great time to be a white rapper in America huh?" she captioned the image. "These are the top songs on US iTunes."
After the rapper received a backlash from Hip-Hop fans, she added: ""S/O Em & Post. Two of my faves. Congrats to Em on his new album."
"Blocking all u sensitive d*ck riders. It IS a great time to be a white rapper in America,"
"I wanna sign one for my new label. U know anyone? I spk my mthafkn mind n if u don't like it gtfo my page d*ck rida! Y'all can never wait to ride the Queen d*ck! Sensitive ass ig thugs. Gtfoh."
Fans then hit back on various social platforms, including Twitter:
So only because you are black you can be rapper ?? This is so RACIST from Nicki Minaj. Nicki you are "sometimes" huge idiot.

— Lady Gaga Child (@GagaChild) 17 December 2017
nicki minaj gets salty about anything white when she herself bleaches her skin

— Dick Rat (@perfectdelusion) 17 December 2017
I have so much to say about this Nicki Minaj statement boy !!!!! Ole BOY!!!

I'm so tired of hip hop artist blaming the got damn white man !!! When will we address our bs we do??? I blame US period !!

— Dameka Rochelle (@DamekaRochelle) 17 December 2017
@NICKIMINAJ don't like to be called a female rapper but she made a reference about white rappers

— ty (@tyfromthechi) 17 December 2017
As the backlash intensified, she posted a now-deleted video of J. Cole discussing how white people now dominate Jazz music.
"Be mad at this too. Onika posts what Onika wants on Onika's page," she wrote.
"Anybody who don't wanna see Onika's posts, should unfollow Onika & stop commenting to or about Onika cuz Onika doesn't know you or care about you."
Despite Nicki Minaj deleting her posts, Wale addressed the situation, appearing to support her words.
"I see no lies… white artist songs are instantly "pop" songs and not urban. Miguel got to be "urban" Sam Smith can be "pop" with exact same song.
"Nobody wanna say it though because of the backlash… The white artist know it too, they don't disagree."
Nicki then posted some cryptic tweets following the backlash.
A hit dog will holler

— NICKI MINAJ (@NICKIMINAJ) 18 December 2017
Speak for yourself. I can't hear you.

— NICKI MINAJ (@NICKIMINAJ) 18 December 2017
This so Beam Me Up Scotty

— NICKI MINAJ (@NICKIMINAJ) 18 December 2017
Be nice

— NICKI MINAJ (@NICKIMINAJ) 18 December 2017
Meanwhile, Nicki Minaj recently featured in Migos' new 'Motorsport' video featuring her rumoured rival Cardi B.