Rita Ora's Reaction To Nicki Minaj's MTV VMA 'Anaconda' Performance Is Priceless
25 August 2014, 11:46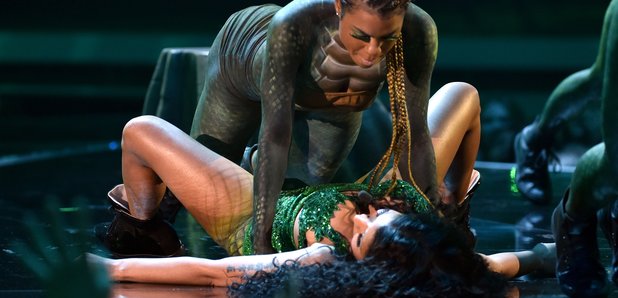 There are no words.
It's the MTV VMA's and Nicki Minaj has gone all-out for her performance of new song 'Anaconda'.
There was bouncing. There was touching. There was twerking. And the world watched on like...
I wish I could be Nicki Minaj's wedgie

— Barin The Great (@BarinTheGreat) August 25, 2014
Where's Nicki Minaj's parents at doe

— ≫ lℯxу ≪ (@lexygarcia_) August 25, 2014
This Nicki Minaj's show everyone else is just extra

— m a l a k (@unusualvox) August 25, 2014
But one person looked so confused.
But that man that was next to Rita Ora seemed to enjoy Nic's Anaconda performance.

— Tanya (@KyshaLovesNic) August 25, 2014
Watch Nicki Minaj's full 'Anaconda' performance below:
You can watch the MTV Video Music Awards in full from 8pm tonight on MTV UK.