Did Nicki Minaj Just Throw Shade At Taylor Swift Over Her New Song?
25 August 2017, 12:01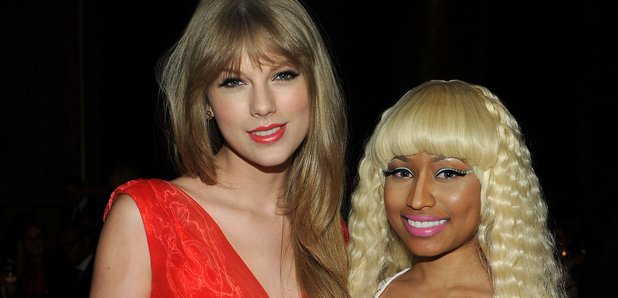 The rapper recently collaborated with Swift's long-time rival Katy Perry.
Nicki Minaj has posted a cryptic tweet that fans suspect is about Taylor Swift's new song 'Look What You Made Me Do'.
Following the release Swift's hotly-anticipated comeback single, the female rapper took to Twitter with what many have perceived as a thinly-vieled shot at the singer.
"N***a sit down. Be humble" Minaj posted after the song dropped, prompting users to assume the shade was aimed at Taylor.
Nigga sit down. Be humble

— NICKI MINAJ (@NICKIMINAJ) 25 August 2017
In the past, the chart-topping divas have come face-to-face with their own issues.
After Nicki's music video for 'Anaconda' failed to pick up a nomination for Video Of The Year at the VMAs in 2015, the rapper fired an apparent shot at Taylor.
"If your video celebrates women with very slim bodies, you will be nominated for vid of the year." she posted.
Swift, whose video for 'Bad blood' was nominated - and subsequently won - defended herself against Nicki, saying: "I've done nothing but love & support you. It's unlike you to pit women against each other,"
"Maybe one of the men took your slot."
However, the pair appeared to put their drama behind them and even performed on stage together that same year.
Swift is yet to respond to the tweet.
Meanwhile, Minaj recently featured in the music video for her recent collaboration 'Swish Swish' with Swift's long-time rival Katy Perry.