Here's Why Nicki Minaj & Taylor Swift Fans Want To Knock Cardi B Off The Charts
21 September 2017, 12:25 | Updated: 10 April 2018, 15:09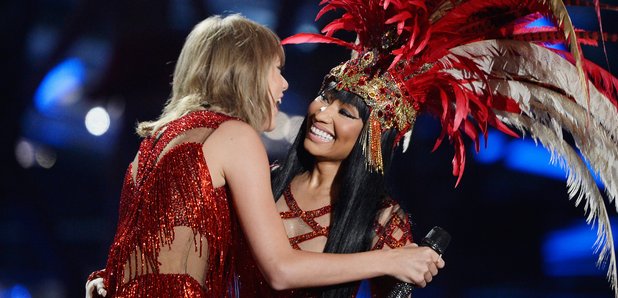 Her monster track 'Bodak Yellow' is posing a threat...
Fans of Nicki Minaj and Taylor Swift are joining forces in the hopes of keeping Cardi B's 'Bodak Yellow' away from the number one spot.
The rising rap starlet is currently sitting pretty at number two following a steady summer climb, meaning that the track could potentially top the chart in coming weeks.
However, after the release of her new single 'Look What you Made Me Do', Taylor Swift's loyal fans are determined to see their idol nab the number one spot instead.
In addition, Billboard report that 'Bodak Yellow' has also become the highest-charting song by a solo female rapper since Nicki Minaj's 2014 hit 'Anaconda' - which doesn't sit well with Minaj's fans.
Despite the Cardi claiming that the rumoured beef between her and Minaj has never gone down, fans of the 'No Frauds' star feel threatened by the media's perception of Cardi as "the next Nicki Minaj".
In an attempt to dethrone Cardi, Swfities are Barbz are repeatedly streaming 'Look What You Made Me Do' in a bid to keep the song at #1.
The fandoms are encouraging each other online using the hashtag #LWYMMDStreamingParty, sharing screenshots and gifs of the ongoing campaign.
would rather want nicki to have no 1 single than cardi b. cardi don't deserve it
Taylor worked her ass off #lwymmd #LWYMMDStreamingParty pic.twitter.com/OIpbo0vnz7

— REPUTATION (@WANEGBT_stan) 17 September 2017
#LWYMMDStreamingParty I wanted to thank all of the #Barbz streaming Taylor today! We promise to put Nicki at the top when she releases NM4 pic.twitter.com/z1vK4d1Wls

— Sydney19 (@honeyroseswift) 17 September 2017
We are coming to save Nicki and Taylor's record. Welcome to #LWYMMDStreamingParty pic.twitter.com/UdT7IdVajr

— Nicki stan (@minajarmys) 17 September 2017
#LWYMMDStreamingParty LETS GO BARBZ X SWIFTIES pic.twitter.com/2KnKZywGps

— nateclip (@nateclip) 18 September 2017
However, it looks like Cardi B's fans aren't going down without a fight.
The fandom have also taken to Twitter to encourage each other to purchase and stream 'Bodak Yellow' in an effort to catapult it to number one.
Anyway Bodak Yellow is still .69 cents, go buy it so Cardi B can knock Taylor swift out her mf way.

— (@honeysucckle) 18 September 2017
Can we all stream, watch and request Cardi B's, "Bodak Yellow" so she can dethrone Taylor Swift and get her well deserved #1? Thanks.

— Wanna (@WannasWorld) 17 September 2017
Nicki, Taylor and Cardi are yet to respond to the efforts.