Nicki Minaj Reveals She Was In An Abusive Relationship In Emotional Documentary Clip
3 October 2018, 13:21
The 'Barbie Dreams' rapper opens up about her past "violent" relationship during a tearful teaser for her new Apple Music documentary.
Nicki Minaj is setting fans up for an emotional rollercoaster as she opens up about her past experiences with abusive relationships.
The New York rapper shared two clips from her upcoming Apple Music documentary, 'Queen', where she recalls seeing her father's violent behaviour towards her mother growing up.
"I remember when my mother would let my father be violent with her. And she always brings up this story, as a little girl I would stand in front of my mother and go like this," she said, stretching out her arms.
Minaj described how this may have resulted in people perceiving her as having a "abrasive" or "bitchy" nature, and wild go on to have an effect on her since-ended "violent" relationship.
"I vowed from that age no man would ever abuse me, call me out my name, treat me like that," she said, before tearfully adding, "And all of a sudden, that was my life."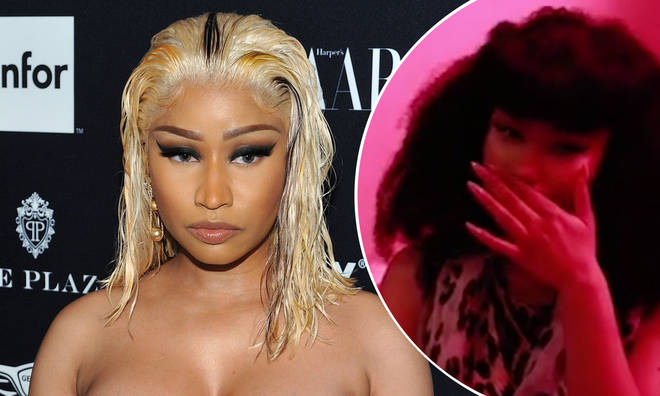 The rapstress said she lost confidence in her musical ability during the time of abuse. "Who was I going to inspire when I had nothing in me to give?"
"I let one human being make me so low, that I didn't even remember who I was. I was scared to get in the studio. I didn't believe in myself." Minaj didn't disclose the partner's name.
Following this patch of low self-esteem, she relocated to Miami where she began to find her stride again. Her next move to New York, however, really lifted her back up again.
There, she says, she began recording tracks like "Coco Chanel" and "Good Form," both of which feature on the recently-released 'Queen'. The documentary is "coming soon", according to Minaj.
Meanwhile, Nicki is rumoured to be dating Formula 1 driver Lewis Hamilton following her brief alleged relationship with fellow rapper Nas.