Nicki Minaj & Remy Ma Feud Heats Up After 'Birthday Bash' Performance - WATCH
19 June 2017, 11:46 | Updated: 19 June 2017, 11:49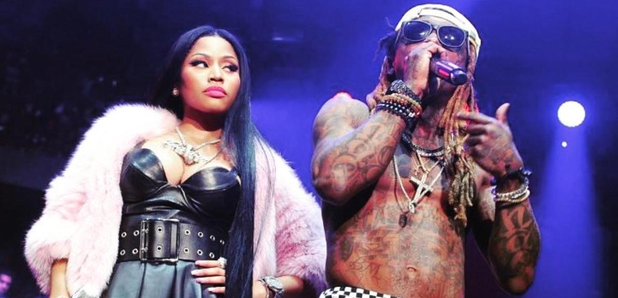 Things escalated quickly...
Nicki Minaj's long-running feud with Remy Ma intensified this weekend after she appeared as a special guest during Gucci Mane's Hot 107.9's birthday bash performance.
The Young Money rapper surprised fans by emerging from the floor to perform verse from 'Make Love' in Atlanta, the track which sparked her beef with Remy.
She then stayed on stage to perform another Remy Ma diss track 'No Frauds' alongside her Young Money boss Lil Wayne.
Many fans thought Nicki Minaj was being extra disrespectful, as they assumed Remy Ma – who had performed at the same event earlier that evening – was still in the building.
However Remy Ma shut down all speculation with a now-deleted Instagram post.
"Wait," she began. "I know ni**as is not out here trying to act like we was all in the same building and you acting all tough and hardcorial.
"First of all, nobody even looks at you like that. Do you know that nobody believes that you're tough like that? Stop. It's actually painful to watch."
The rapper then revealed the rules for performers at the event, which required them to leave the venue after their sets.
The video post featured the scathing caption: "Everybody knows I'm still on papers & I really be on some chill sh*t; perhaps that's why b*tches out here 'FRAUDing,'" she wrote.
Adding: #WhyYouFrontingLikeYouDidSomething, #YouWaitedTilHoursAfteriLeft #LikeUAlwaysDo, and #StopMentioningFelonsTilThatALLEDGEDPedophileGetOfTrial."
Nicki Minaj recently reignited her long-running feud with Remy Ma after dissing her on a new track called 'Realise', which appears on 2 Chainz' new album 'Pretty Girls Love Trap Music'.