Remy Ma Drops Savage Diss Track On Nicki Minaj And Hip-Hop Can't Handle It
27 February 2017, 11:02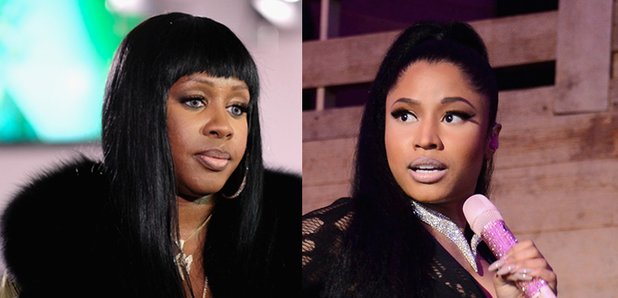 Shots fired.
Remy Ma fired some major shots at Nicki Minaj this weekend after unleashing her Black Barbie-aimed diss track 'ShETHER'.
The seven minute roast sees the American rapper call out Minaj by name, throwing huge insults at her long-time rival including claims of implant surgery, ghostwriting, and relationship rumours surrounding Meek Mill, Drake, Lil Wayne and more.
Listen to 'ShETHER' below:
The name 'ShETHER' takes inspiration from Nas's legendary 'Ether' diss track aimed at Jay Z, highlighting the comparisons Nicki Minaj has previously made between herself and Hov.
In response, Nicki Minaj posted a video to her Instagram account, in which Beyonce can be heard hailing the 'Anaconda' star as 'the rap queen'.
Nicki also took to Twitter to trade words with her 'Bottles Up' collaborator Trey Songz after his name was dropped in one particularly slanderous 'ShETHER' lyric.
"Mentioning guns, you P***y Galore, James Bond / Only time you touch a trigga is when you f**ked Trey Songz," spat Remy Ma.
Nicki argued that Trey failed to do his part in dismissing the claims, leading him to defend himself and promoting Minaj to delete her tweet.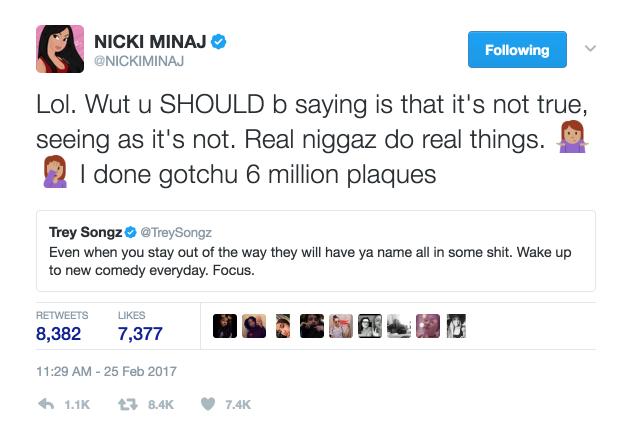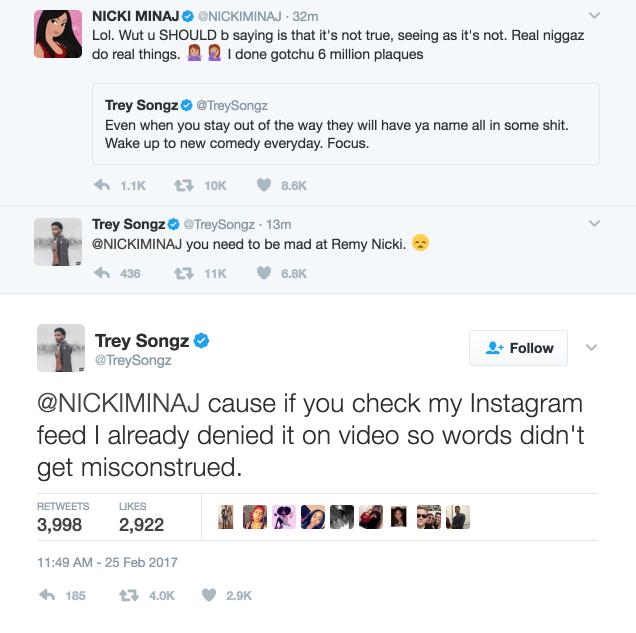 Naturally, the rest of Twitter erupted soon after the song was initially released.
Many users were quick to defend Minaj and her self-proclaimed 'Rap Queen' title...
Remy Ma disses @NICKIMINAJ one good time & y'all act like that's really about to end Nicki career. Remy stats will never match w/ Nicki's.

— stinker (@gay4mika) February 26, 2017
If lil Kim couldn't end @NICKIMINAJ what y'all think inmate 74690 can?

— 06|01 (@KaylaMadeInPink) February 26, 2017
Meanwhile Nicki Has 4 Songs in iTunes ww @NICKIMINAJ pic.twitter.com/h4mHw9fofh

— Jeffynho Oliveira (@jeffoliveirah) February 25, 2017
Tell me how Nicki Minaj gonna end Remy Ma's none existing career??? How is she gonna kill a dead person??

— Nic's inner bae (@Ncamy_) February 26, 2017
Beyoncé: stay out of it blue aunty @NICKIMINAJ got it.

Blue: nah son, if @RealRemyMa say ONE more thing, I'm getting in the studio pic.twitter.com/qgJ2qSCt9z

— Dilly Dally (@EditYourFace_B) February 26, 2017
...whilst hoards of tweets rolled in contrast, arguing that Remy's diss had 'ended' Nicki's career.
remy ma ended your career fam https://t.co/zMWstrrIY6

— sxmmie (live set) (@_PJeezy) February 26, 2017
Remy ma straight ended Nicki Minaj career

— Kameran Pickle (@KameranPickle) February 27, 2017
When young ass, uneducated, misinformed Nicki Minaj fans say that Remy Ma career is about to be over before it started pic.twitter.com/GfLiOI8fxE

— Jesus Shuttlesworth (@_theycallmetrey) February 25, 2017
Remy ma literally just ended nicki minaj entire career she was not playing at all with minaj ass

— Kenya Monique (@iamkenk) February 27, 2017
Just want to say I've been waiting for someone to come through & put Nicki Minaj in her place.
Remy Ma go head booo.

— Mamas. (@TalulaLouise) February 26, 2017
Nicki Minaj waiting on her Ghostwriter to send her a verse after hearing Remy Ma's diss track pic.twitter.com/r789x2IzUu

— The Bar General (@Don_Cluma) February 26, 2017
This is going to get messy...